One of the most common pieces of advice for those who want to take their iPhone photography more seriously (yes, people do take it seriously) is to avoid shooting photos in Apple's built-in Camera app. Many third-party photo-taking apps offer more control and features, turning the iPhone's camera into a powerful tool for professionals and hobbyists alike.
One camera alternative is Lucky Clan's Top Camera, which packs in numerous photo-taking modes, impressive photo-editing tools, and more into a single package.
Top Camera comes with more features than other all-in-one camera apps like Camera+, and is similar to such offerings as Camera Plus Pro. Not only does it include different still-shooting modes such as HDR, Burst, and Slow Shutter, but users can also shoot video from within the app, organize photos into different folders, and edit and add filters to photos directly from within the app.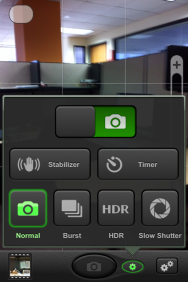 Opening Top Camera always brings you to still Camera mode (even if you last used the app to edit a photo or shoot in video mode). The screen should feel familiar to anyone who has used a photo-taking app—you can see what you're shooting on the screen, tap where you want to focus, and take the shot by tapping the main camera button.
But Top Camera offers more: You can tap and drag the focus and exposure box into two separate boxes, open a Settings menu to adjust numerous features, and change your shooting mode. The HDR shooting mode is especially nice. The app prompts you to tap on the brightest and darkest areas of a shot, and produces a really polished image with that information.
From the Settings menu you can turn on or off the Screen Button (which turns your screen into a capture button), Zoom, Grid, and more. Users can also modify each shooting mode on an individual basis; for instance, you can change the HDR camera mode to either Auto or Manual, and choose to have a weak, medium, or strong effect. One of the neatest features that comes with Top Camera is its ability to shoot photos using the volume buttons. This offers increased stability, and a more camera-like way to shoot photos. You can also tap on the translucent bubble icon at the top right corner, to adjust the brightness, contrast, saturation, and temperature, and see the changes happen live before taking a shot.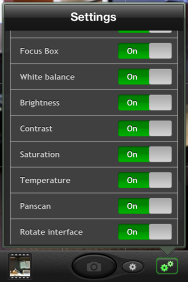 Users can choose to have photos automatically save to the app's image folder, your device's Camera Roll, or both. Within the app you can create different types of folders—Jeff's Birthday or Beach Trip, for example—which is a great feature for those who want to keep their images organized. You can also edit photos within the app by tapping the export button when previewing a photo, and then tapping edit (it's not necessarily the most intuitive place to put this option, but it works).
Top Camera comes with fairly advanced editing options: You can crop and rotate a photo; adjust the brightness, contrast, and saturation; add one of more than 30 filters; and add a border or vignette. For those who like to edit photos immediately after taking them, Top Camera's Photo Editor mode is great. You don't have to bring the photo into another photo-editing app, and you still get all of the necessities, plus some more.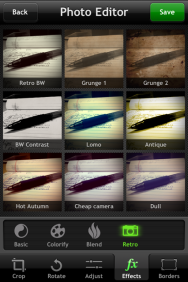 Unfortunately Top Camera suffers from one major flaw that prevents it from being a truly useful app for iPhone photographers: it lacks an AF/AE (Auto Focus/Auto Exposure) lock in Camera mode. This small-yet-important feature is something Apple even included in its latest iOS 5 version of Camera. Top Camera is constantly refocusing and re-exposing the shot, and if you move the frame, the focus and exposure box will jump back to the middle.
Some other minor annoyances I had with the app include its video shooting quality. You can choose between low, medium, and high quality video shooting, but high quality shoots as if you've zoomed in, medium is somewhat grainy, and low is just plain awful. Since this is an app mainly focused on still-image capture, it's not that much of a problem.
Overall, Top Camera is a decent all-in-one app. If the developers update the app to include AF/AE lock, it could be a perfect go-to Camera alternative for iPhone users. For now, however, it's only a good option for those who just use auto-exposure and focus.
[Alexandra Chang is a staff editor with Macworld.]