Apple's iTunes Match cloud-music feature seems to be inching closer to release: An option to enable the feature has now appeared on the second-generation Apple TV—this despite Apple having missed its goal of launching iTunes Match by the end of October.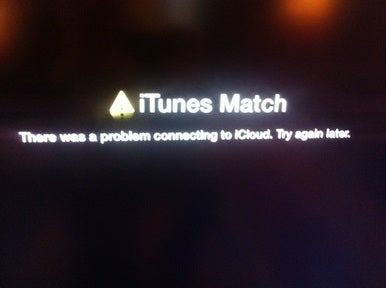 Reports of iTunes Match showing up on the Apple TV began surfacing online on Wednesday evening, including from our own executive editor Jon Seff, The Loop's Jim Dalrymple, and Macworld contributor Jeffrey Battersby.
I tested on my own Apple TV and, sure enough, the option to Turn on iTunes Match showed up under a top-level Music menu—though I first had to navigate into Settings -> General and then back to the main menu before it appeared. For me, trying to enable iTunes Match yielded an error, saying that there was a problem trying to connect to iCloud. Only Apple TVs running version 4.4.2 of their software support the feature.
A similar option to enable iTunes Match has already appeared on iOS devices, under Settings -> Music, but attempting to enable it there results in an error saying that users must subscribe to the service on a computer. According to Apple, iTunes 10.5.1 is required for subscribing to iTunes Match, but the company has yet to make the update publicly available.
Apple did not respond to Macworld's request for comment.