There's no shortage of video entertainment available on the iPhone and iPad: the iTunes Store as well as dedicated apps from Netflix and Hulu Plus offer an array of television shows and movies that will satisfy the most avid couch potato. But you have to pay for those services. Not so with Crackle, a universal app that offers a modest-but-entertaining selection of TV and film for your iOS device—and does so for free.
As a streaming service, Crackle is every bit as reliable as its competitors. It's also very social: Videos can be shared from the app to Facebook, Twitter, or via e-mail. You're not required to register to watch the shows, but doing so offers the ability to stop the movie on your iPad, and re-start it at the same point later on your iPhone or PC. (iPhone 4S and iPad 2 owners can also stream video to your TV via Apple TV using iOS 5's app mirroring feature, though AirPlay streaming isn't supported on other devices.) If you really like the show or movie you're watching, there's the option to buy it directly from iTunes.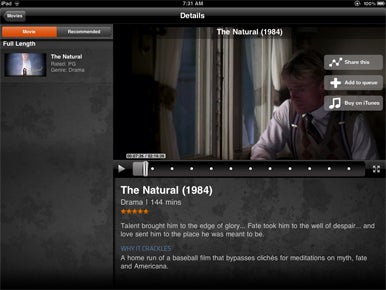 The real question for an app like this, though, is selection: Is there anything worth watching? The answer is "yes," particularly on the movie front. The offerings aren't huge in number—fewer than 300—and they tend to be weighted toward older-but-popular movies from the 1980s and 1990s: Flicks like The Natural, Glory, and Donnie Brasco. (It's also somewhat heavy with bad sequels: Ghostbusters II and Wild Things II are currently available, but their more-successful predecessors are not.) But there is usually at least one recent popular movie, like Step Brothers or Pineapple Express, also on the roster. The danger of getting bored is low; Crackle periodically refreshes its offerings.
The TV pickings are slimmer, with lots of animé and quickly cancelled shows. But Crackle has one clear advantage over the other services here: The Sony-owned Crackle has Seinfeld—usually 10 episodes at any one time.
If there's a downside to Crackle, it's this: Lots of ads. Movies don't run uncut; a two-hour flick has as many as seven commercial interruptions.
So Crackle isn't perfect: The limited selection and ads won't offer voracious videophiles the immersive experience they get from Netflix. But if you're looking for something fun to watch on your iOS device—and you don't want to shell out dough to do it—this app is probably your best bet.
[Joel Mathis is a freelance journalist and political columnist for Scripps Howard News Service. He lives in Philadelphia.]