When you already have one of—if not the—most robust and full-featured text editors available, what does a company do for an encore? Bare Bones Software chose, with BBEdit 10, to create a new version designed to make BBEdit easier to use and more accessible for existing users.
New users will find plenty to like, especially users who are outside of BBEdit's core constituency of programmers. If you need strong text editing features for prose, not code, you'll enjoy the user-interface improvements and the ability to get work done faster. If you're a codehead, you get better ways to work with your code, like improved project management, easier HTML entry, and customizable syntax coloring. Everybody wins.
Workspace and editing improvements
BBEdit's document drawer, which contained the many files you were working with, has been replaced by the Files sidebar, which gives you quick access to both open and recent documents. The sidebar can contain either a simple list of files, or you can drag and drop a folder with subfolders to it, allowing you to navigate your project similarly to a Finder list view. If you create a BBEdit Project file to organize your files, you'll also get a Scratchpad window, useful for snippets of text and code you might want to use within different parts of the project, and a Unix worksheet that allows you to enter Unix commands.
The Open Files by Name window, new in 10.1, is modeless, and makes it quick to find and open files. You can use wildcard characters to find files, and it searches your BBEdit Projects, XCode project, or just the file system.
Some important types of documents (ePub and Pages, for example) are actually container files with the contents compressed in the ZIP format. BBEdit can now look inside, edit, and save files within these containers, which is a big timesaver (especially for people like ePub authors, who might just want to tweak a stylesheet or fix a typo without unzipping, editing, and re-converting their manuscript to ePub format). This feature even works with multi-file search and replace, so you can change text in many different files that might be inside the ZIP container in one operation.
BBEdit presaged Lion's Auto Save with its Sleep feature, so you don't have to worry about saving your files, even if you've never explicitly saved them; when you reopen the program, all the files from your last session will be available in the files sidebar, ready for you.
Working with Web documents
If you do a lot of HTML and CSS authoring with BBEdit, you'll appreciate that the respective markup palettes have been redesigned and modernized, and the modal dialog boxes for entering tags have been replaced with context-aware popovers that contain the appropriate required or optional attributes for the tag you're entering. Control-clicking or choosing Markup -> Edit Markup in an existing tag in your document invokes the popover.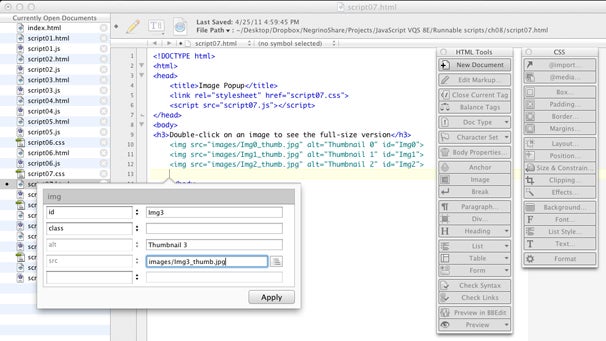 It's a little surprising that the documentation states BBEdit's CSS tools are still specified as being only compliant with the CSS 2.1 spec. The program's HTML and CSS text completion includes many properties from CSS3 modules and browser-specific properties. As it stands, BBEdit has no tools for CSS syntax checking, not even the ability to hand documents off to the W3C CSS checker.
Better and shared preferences
BBEdit 10 introduced a refresh of the program's Preferences window, which is a welcome and long overdue improvement in usability. Preferences have been re-organized and pared down. (Obscure and expert preferences are still available via the command line in Terminal; see Expert Preferences in BBEdit's Help file for a complete list).
The new Setup window, under the BBEdit menu, stores FTP and SFTP bookmarks, Filters (for things like multi-file searches), Patterns (the Grep patterns you create in the Find window), and Sites (the website configurations, which allow you to define things like the server's URL, the local site's root, and the like).
If you work on more than one computer, you can now share your BBEdit application support and preferences files between computers using Dropbox. There's a bit of manual set up (amply explained in the user manual), but after that your work environment will be identical on all your computers.
The program is available directly from Bare Bones or on the Mac App Store. Due to Apple's App Store restrictions, there are a few BBEdit features you won't find in the App Store version. BBEdit has the ability to edit and save files for which you might normally not have permission (for example, files owned by root). Apple doesn't allow that, so if you need that ability, it's better to purchase BBEdit from Bare Bones. The App Store version also lacks tools that allow you to use BBEdit's functions from the command line; a package that adds this ability is downloadable from Bare Bones.
Macworld's buying advice
One of the biggest changes in BBEdit has nothing to do with features, but rather with price, which has been halved to $50. Upgrades from previous versions are $40. This price drop makes the program a terrific value aside from its many improvements. Considering those enhancements, BBEdit should be your first choice in a full-featured text editor.
[Tom Negrino is the author of more than 40 books and a longtime contributor to Macworld. His latest book is Keynote for iPad: Visual QuickStart Guide (Peachpit Press).]