The iPhone does many things well, but I find that it really excels at a pair of things—grabbing real-time data and letting you connect with other people. Those two strengths would seem to appeal to sports fans: After all, the only thing better than finding out that the Steelers are putting a hurting on the Patriots is to drop an instantaneous line to your buddy back in Boston, making sure he's well aware of New England's implosion.
A pair of app makers have seized on this idea, with separate offerings that aim to bring sports fans together to root, root, root for the home team—or boo them, if you prefer—from the comfort of their iPhone or iPod touch. It's a promising idea, but unfortunately both SportCaster and PlayUp swing and miss in their own particular ways.
SportCaster, from OneLouder, is the more polished of the two apps I'm reviewing here. It's a basic scorekeeping app that also incorporates the Twitter microblogging service. Tap on an individual game, and you see a stream of tweets commenting on the action. OneLouder curates the feeds, and you've got limited filtering options. By default, you see what OneLouder dubs the GameDay feed, which is a collection of reporters and bloggers; you can turn that off, and you can also turn on a feed of tweets from fans of the teams involved in the game.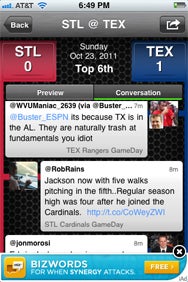 There's a smart idea behind SportCaster—with its steady stream of comments, Twitter can really enhance the game-experience—but things fall flat in the execution. To combine a scoreboard app with a Twitter feed, SportCaster makes too many compromises, so that the finished product doesn't fully deliver on either front.
For its scoreboard functionality, the app will give you the score and time remaining or inning; other information, like down and distance and who's got possession of the ball in football games is surprisingly MIA. Some in-progress games will include a box score tab featuring current stats; other times, for other sports, that information isn't available. (There is a box score tab for games after they're completed.) The experience feels very uneven, and beyond a basic score, SportCaster doesn't provide too many useful details.
The Twitter functionality has problems of its own. It's nice to have a curated feed, but it would be even nicer to have some ability to add people you know. One of my associates lives and breathes Cal Bears football, and it's weird to follow a Cal game on SportCaster without his contributions. You can tweet from within the app (though the first time I did, OneLouder took the liberty of adding its Twitter account to the ones I followed), and you can also reply to, retweet, and email tweets you see in the app. If you want to tap on a link within a tweet, you've got to tap twice—once on the tweet to bring up a list of icons, including the one you have to tap to jump to SportCaster's in-app browser. That seems like one tap too many.
The biggest problem with SportCaster, however, is its layout. It crams tweets between the score at the top of the screen and an ad at the bottom. (An in-app purchase of $5 makes the ad go away.) Different people have different feelings about design, of course, but to me, it's a very claustrophobic effect—one that makes me not want to spend my leisure time using an app I find unpleasant to look at.
To the credit of the folks at OneLouder, they're very interested in improving upon the app. In the time I've been testing SportCaster, updates have added the baseball postseason and hockey to the sports you can track through the app; the next update promises to add basketball to the mix. And OneLouder told me that my wish of being able to add people to a game's feed is also on the drawing board. The company's desire to expand and fine-tune the app is admirable, but it doesn't change the fact that SportCaster just isn't there yet.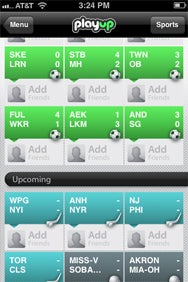 Flawed though the current version of SportCaster may be, at least it isn't a disaster on the scale of PlayUp. Like SportCaster, PlayUp combines a basic scoreboard app with a social element. You'll get the score and whether the game is in progress, completed, or upcoming; tapping on a game reveals some additional info—PlayUp will give down and distance and who's got possession in a football game, for instance, though it lacks the postgame stats you'll find in SportCaster.
PlayUp's troubles begin with a cluttered scoreboard. In addition to the more popular sports like the NFL, college football, NHL, and Major League Baseball, you'll also find listings for rugby, cricket, Australian rules football, and soccer leagues from China to Argentina. That's terrific if you're interested in the second division of Japan's J-League, but not so great if you'd rather not be kept appraised of the latest goings-on in that league. At present, PlayUp offers no way to select which sports you follow and which ones you ignore: They're all just thrown up there on the scoreboard, with nothing but a sport-specific icon and a color to distinguish an NHL game from a Bundesliga 3 contest. PlayUp complicates matters by using only abbreviations, not team names in its listings, so you're left to decipher on your own that the MAI-SGT score refers to the Mainz-Stuttgart match taking placing in the German soccer league. Worse of all, the scoreboard is incomplete. When I tested the app this week, PlayUp indicated that the Major League Soccer season in the U.S. had come to an end: That must be a terrible disappointment to the teams competing in the MLS playoffs.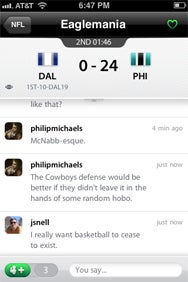 A scoreboard is really only one aspect of PlayUp, though. The app really exists to give you a place to talk about sports with your fellow fans. Unlike SportCaster and its reliance on an existing service like Twitter, though, PlayUp hopes to create its own social network of sports fans across the globes. The trouble with that approach is that in the early going, there's just not that much activity: the chat rooms affiliated with each game in the PlayUp app are either empty or populated by just a couple of people.
PlayUp's solution is to integrate with Facebook. You can sign up with PlayUp through the social networking service and invite your Facebook friends to do likewise. Your reward for doing so will be a big, fat ad for PlayUp placed prominently on your Facebook wall.
Getting friends to join you on PlayUp is critical because of what should be the app's most appealing feature—private chat rooms where you and your buddies can get together to exchange messages about a game, as it's being played. But there are problems with this feature, too, starting with PlayUp's apparent inability to properly use the notifications features in iOS 5. A friend sent me an invitation to gab about Game 7 of the World Series in one of PlayUp's chat rooms; I didn't see the invite until I launched the app two days after the fact.
Once inside a chat room, things improve a little, though the chatting activity doesn't feel seamless. PlayUp says new posts appear automatically, but I often found that they only showed up after I scrolling the screen to summon new updates or after I posted a message of my own. Often times, there was so little activity in the PlayUp chat room, that my iPhone would go to sleep. I also don't like that typing in a new message takes you away from the chat room to a new screen; PlayUp would be better served by mimicking the functionality of iOS's Messages app, where you can type new messages while still being able to refer to the conversation. The whole experience in PlayUp feels very disjointed.
PlayUp tells me that it's working on changes, such as allowing you to filter both sports and friends. That would be a step in the right direction, but make no mistake: PlayUp has a lot of yardage to make up before it's even in sight of the end zone.
[Philip Michaels is the editor of Macworld.com.]