For capturing the vastness of a wide-open space, there is nothing quite as effective as a panorama photo. While many iOS apps offer panorama stitching, or even capturing and stitching, few make it as easy as Dermandar Panorama.
The beauty of the $2 iPhone app from Dermandar is its simple and speedy interface. Instead of asking you to follow a grid or import photos from your library, Dermandar lets you take photos from within the app and automatically stitches them together for you. The Capture screen is simple and has only three buttons: Start lets you begin taking your panorama shot; Info brings up handy instructions and tips; and Gallery takes you to thumbnail images of Dermandar shots from around the world.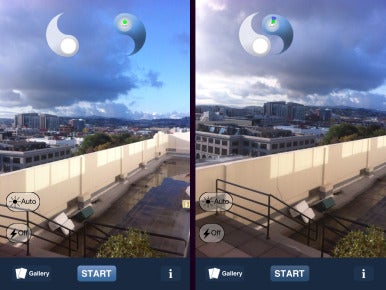 When you start shooting the panorama, Dermandar asks you to pan your phone from right to left to connect the two sides of a yin-yang shaped graphic that floats over the scene. Once the shapes are connected, you wait a split second while Dermandar takes the photo. When it is done, the yin-yang separates again and you can move further across the scene. The app tethers to points in the scene and uses your iOS device's built-in accelerometer. When you pan a view, Dermandar tells you, for example, to move farther left and to keep your iPhone level, so the photo consistant. Because of this, it's really hard to take a bad panorama.
The only problems I experienced with the photos (besides things out of my control, like duplicate panels from moving people) was striping from the different light exposures in the component photos and slight perspective problems. Of the three exposure options—auto, locked, and locked on start—only locked didn't produce striping. It did, however, leave some parts of the panorama over- or underexposed—a problem that I found to be worse than the striping.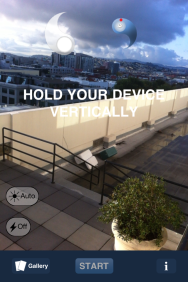 Dermandar stitches photos extremely fast, displaying your panorama in seconds. You can then choose to keep or delete your new photo. The resulting panorama is 545 pixels high, and the width varies by how many shots you take—our nearly 360-degree panorama racked up a 1920-pixel width­—not enormous when compared to the average point-and-shoot, but a little large for an iPhone photo. Once the panorama is stitched, you can save it to your photo library; you can also easily export a shot from the app to Twitter or Facebook as a link to an interactive photo on Dermandar's simple and easy-to-navigate website. Photos are uploaded to the Dermandar website only if you deliberately export them and are shared under a user name that you can quickly create.

Perhaps the coolest thing about Dermandar is the way it has collected and shared its library of images. The world map on Dermandar.com is geotagging at its best. Using Google Maps, you can browse through and comment on photos from all over the world. In less than five minutes, I was able to find a panorama of the beach in San Diego, where I learned to surf before jumping across the world to find a panorama of a Jenga game in a living room in Herning, Denmark (complete with some deliciously affordable Slots Pilsner). There are 360-degree views of the Kremlin in Moscow, the Opera House in Sydney, and the Grand Canyon. Dermandar's website also offers a stitching application, so even if you didn't have the app when you took your panoramic component shots, you can still upload them to the site's tool, which will stitch them together in either a 360-degree or wide-angle shot.
[Lauren Crabbe is a Macworld editorial intern.]