At a Glance
Expert's Rating
Pros
High-quality lenses make sharp images and videos
Compatible with tripods
Easy to use, all-in-one system
Cons
No lens caps
Pricey compared to other iPhone lens options
Our Verdict
The iPhone photography industry never ceases to release better, more advanced, and sometimes exceedingly strange accessories. On its own, the iPhone is already a great camera—the iPhone 4 sports a 5-megapixel sensor while the 8-megapixel iPhone 4S also got an optics boost to capture sharper, better-lit images. But there's always room for improvement. Schneider Optics, a professional lens manufacturer, has released the iPro Lens System. This all-in-one accessory includes a wide-angle lens, a fisheye lens, a specially designed iPhone case, and a lens case that doubles as a handle and tripod mount.
To use the iPro Lens System you need to snap on the included iPhone case, which is compatible with the iPhone 4 and iPhone 4S. The right and left sides of the case feature threaded inserts for you to attach the handle. The case is made out of molded plastic, and is very stiff—initially it seems impossible to put on and take off. It turns out you need to attach the lens case handle to the right side of the iPhone case and then apply leverage while popping the phone in and out. Schneider Optics provided these instructions to Macworld, but have not yet included them in the system's user guide. Once you know this, however, the entire fitting process is very easy.
Once you have the case on, you can mount the wide-angle or fisheye lenses onto the iPhone camera. The back of the case features a bayonet mounting system, which lets you easily twist the wide-angle and fisheye lenses on and off. The same mounting system is located inside the lens case, to keep the lenses secure. It's a well-designed system that does a good job of keeping lenses on the case, even with some heavy shaking.
In our photography tests, the iPro Lens System's lenses produced sharp, high-quality images. The wide-angle lens is perfect for people who take a lot of landscape shots, or just want to be able to capture more in one photo. While the iPhone 4 camera alone captures a 62-degree field of view, the wide-angle lens makes it possible to capture an 86-degree field of view. The difference is even more noticeable when shooting video, where the wide-angle gets a 70-degree field of view compared to the iPhone's 46. Shots are crisp; there's very little distortion and absolutely no vignetting. (Photos below were taken from the same distance at the same angle. Click to enlarge.)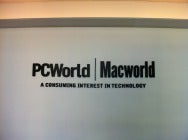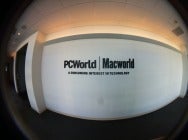 Obviously, the fisheye results are the more extreme. The lens captures a 160-degree field of view in still camera mode, and 120 degrees in video mode. My only problem with the fisheye lens is that the vignetting is not completely symmetrical: One side of a shot has slightly more vignetting than the other. But image results are super crisp, and overall it's a great lens. Another cool feature with the iPro Lens System is that the lens case handle also functions as a tripod mount. The bottom of the handle has a 1/4-20 attachment point, compatible with any standard tripod.
This level of iPhone shooting doesn't come cheap though. The iPro Lens System is a whopping $199, almost three times the cost of the comparable olloclip, and $30 less than the super-sturdy OWLE Bubo mount. Granted, the iPro Lens System's image quality is superior to all other iPhone lens options I've seen. Plus, you get a decent case and a handle to steady your shots. It's also portable: In my days of reviewing the iPro Lens System, I kept the case on my iPhone, and carried the lens case with me in my bag. Whether Schneider Optics' iPro Lens System is worth the money depends a lot on what you use your iPhone for, and how often.
Macworld's buying advice
I can imagine the iPro Lens System as a great option for people who make skating, biking, and other action sports videos. It might be a worthwhile investment for Instagram lovers, or anyone who has started to rely on their iPhone camera to take photos more than their DSLR. People who don't frequently take photos with their iPhone and still want extra lens effects once in a while should consider cheaper options. But for those who are avid iPhoneographers and want the very best lens accessory for their device, this is it.
[Alexandra Chang is a Macworld staff editor.]
Note: When you purchase something after clicking links in our articles, we may earn a small commission. Read our affiliate link policy for more details.