Newstream is my favorite iPhone newsreading app, ever.
There have been countless news apps introduced in the years since the iPhone launched in 2007. Newspapers have often led the way, with apps that usually amount to little more than a vertical list of headlines. Aggregation services and personalized news apps have usually been more fun to use—but often the best efforts (like Flipboard and Zite) live exclusively on the iPad.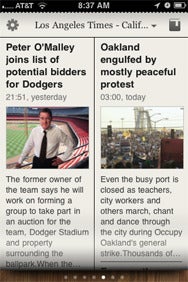 Newstream, a $3 offering from Amazing Softworks, excels by bringing that Flipboard feel to the iPhone. The app lets you choose the news and blog RSS feeds you want to read, then lets you thumbswipe your way between feeds, as natural and intuitive as turning the pages of a book or magazine.
The display is elegant: Stories are displayed in a two-column layout featuring headlines and short summaries, often with a thumbnail photo. Open a story, and you're given an uncluttered Readability-style view of the contents. Swipe to the side, and you're taken to the next story or post within that particular feed. Stories can be bookmarked for later reading, or shared via e-mail, Facebook, and Twitter to the rest of the world.
Newstream isn't perfect. There is no option for importing your Google Reader feeds automatically, so you have to manually add every feed you want to read. And that's not always easy, either: When I tried to add the main feed for my local newspaper, I tried and failed twice—searching first for Philly.com, then for Philadelphia Inquirer. It was only the third time, when I searched for "Philadelphia newspaper," that I found what I was looking for.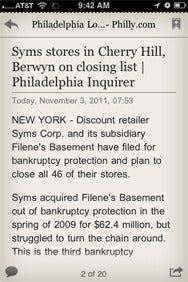 The app also doesn't play well with paywalls: I have a New York Times digital subscription, but I couldn't access most of that newspaper's stories through the app. Which is too bad, because I'd rather read the Times on Newstream than on the paper's own iPhone app.
So Newstream has room to improve. But lots of newsreading apps promise to offer a "personalized newspaper" experience: Newstream comes closest, at least on the iPhone, with its combination of readability and use of iOS's multitouch capabilities. The $3 you pay for this app is a bargain.
[Joel Mathis is a freelance journalist and political columnist for Scripps Howard News Service. He lives in Philadelphia.]