Stats of the Union, a free iPad data visualization app from Fathom Information Design, appears at first glance to be a demography nerd's dream, offering a color-coded county-by-county overview of the nation's vital statistics. In reality the app is a disaster, offering up information that is sometimes incorrect, and doing it in misleading ways.
Here's a striking example of how badly this app performs: I live in Philadelphia—sometimes known, unfortunately, as "Killadelphia" because of its high murder rate. But when you summon up the homicide-rate visualization in Stats of the Union, Philadelphia County is represented by a dark shade of blue: The color indicates my city has a low murder rate.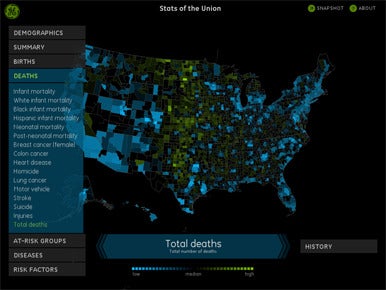 Except it doesn't, of course. Jump online to the federal government's Community Health Status Indicators report—where Stats of the Union draws its information—and you see that Philadelphia County's rate of 24 murders per 100,000 residents is nearly five times the national average. So why does the app show my town as having a low murder rate? Who knows?
(The homicide data is not a one-time error within the app. Stats of the Union also suggests that Philadelphia County—with more than 10,000 people packed into every square mile—is close to the national median for population density. It's obviously not.)
Two other factors undermine the trustworthiness of Stats of the Union. First: Comparisons of data are difficult, if not impossible. I was able to see Philadelphia's homicide rate number in the app—but not state- or national-level information: I have to leave the app and go online to make the comparison. Without a frame of reference within the app, the data is much less useful.
Finally: The color coding of data is inconsistent within the app. For some charts, the color blue is meant to represent a high number, and the color green a low number. In other maps, it's exactly the opposite. Unless you're paying close attention, it's easy to be misled by the data visualizations, even if they're accurate.
All of this is too bad. Fathom Information Design's data visualization technology—with the ability to pinch or spread maps to zero in on specific jurisdictions—is really quite elegant. But you can't trust what this app is showing you, and that makes Stats of the Union a beautiful shell with almost nothing of worth inside.
[Joel Mathis is a freelance journalist and political columnist for Scripps Howard News Service. He lives in Philadelphia.]