Apple's MagSafe connectors were a pretty nifty idea when first released, but not without their problems—namely, fraying cords that had the potential to start electrical fires. Though the cables have since been redesigned, the company still had to face a 2009 class-action lawsuit over the matter; now, according to new documents on Apple's website, a proposed settlement has been reached, and users may be eligible for refunds and/or replacement adapters.
First reported by MacRumors, the support document in question outlines Apple's new Adapter Replacement Program, which states that users can receive a replacement adapter, free of charge, if their current adapter displays signs of strain—that is, fraying near the MagSafe connector, or intermittent charging.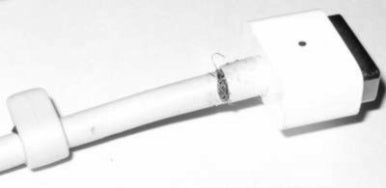 The program applies to both out-of-warranty and in-warranty adapters—you can go to an Apple Authorized Service Provider or an Apple Store for an evaluation and replacement. (If the adapter originally came with a laptop, make sure to bring it along, as you'll need it for processing the replacement.) Apple does note that not all adapters are covered under its program: If your adapter displays accidental damage—which is to say, if your cat decided that the cord might make for a good chew toy—you won't be eligible.
Now, this covers any current and future problematic adapters. For those who have dealt with them in the past and had to purchase replacements, however, you may be eligible for the proposed class-action settlement. According to the MagSafe Power Adapter Litigation website, eligible users include those who purchased certain models of MacBook or MacBook Pro computers, or 60W or 80W T-shaped MagSafe adapters, and had to buy a replacement adapter after the original began to fray or show signs of strain.
The cash payout depends on when you had to purchase a replacement: If you bought one in the first year, you're eligible to up to $79; within two years, the settlement drops to $50; three years, $35. If you ended up purchasing multiple replacements, you can apply for up to three refunds per computer.
To submit a claim, you can head to the settlement website to print out the form; you have three years from your date of purchase or until May 21, 2012 to submit your claim (whichever is later).
Updated at 3:10 p.m. PT to clarify information on cable strain.