You can join a book club or sign up on a site like Goodreads to have conversations about the books you're reading, but neither feels as easily interactive as reading in Subtext Media's Subtext. This new social e-reading app for the iPad lets you comment and read other users' comments directly in the pages of a book. That, along with other social elements, offer a uniquely enhanced reading experience.
Like other e-reading apps, you can read full ebooks in Subtext. But the app offers much more than a reading platform; Subtext functions as a social networking app as well. Once you launch the app, you're prompted to sign in through your Facebook or Google account (Subtext currently accesses your Gmail contacts only, not your Google+ circle). Immediately, the app will add any friends you have on Facebook or Gmail that are also using Subtext. You can also invite your friends by posting on their Facebook wall or by sending them an email. For me, having to sign in with Facebook or Gmail was not a problem, though I can understand how it might be a hassle for people who don't have accounts on either service.
As soon as you're signed in, you'll see a homepage that features a rotation of nearly full-screen book covers. You'll also see a scrollable social bar showing the latest Subtext news and your friends' latest in-app activity, and a navigation toolbar at the bottom of the page. You can tap any of the links in your social bar, which will take you to that specific item, whether it's a message someone sent you or a featured bookshelf. The navigation bar includes a home icon, a friends icon, a points icon, a help icon, and three tabs called Discuss, Books, and Go Read. Users can also tap on their name in the navigation bar to sign our of their account and into a different Subtext account—a great feature for families, or others who share one iPad among multiple users.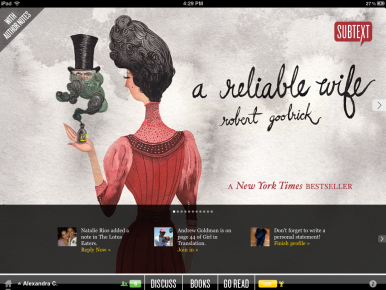 With so many different elements and features available, Subtext does a great job at making the app intuitive and easy to use. When you're all signed in, Subtext greets you with three notes—two general ones from the app, and one from Subtext co-founder Andrew Goldman—in the Discuss tab. The two notes from Subtext introduce you to the app and also let you know where to get help. And for those feeling lonely in Subtext for lack of friends, both Goldman and fellow co-founder Rachel Thomas automatically send new users friend requests with a nice message about whatever book they're currently reading. It's an excellent strategy to make users feel at home in a new social network.
Of course, the most important part about a reading app is actually getting books and reading them. In Subtext, you do this by tapping the Books tab on the navigation bar. You're taken to your personal bookshelf, and should find a Subtext User Guide there (this guide is great for understanding how to navigate Subtext). If you signed in with your Google account and have books through the Google eBookstore, these books should have automatically synced with your Subtext shelf. To add more books to your shelf, you can tap the "Tap to add book" icon, which takes you to Subtext's feature bookshelf that includes 18 author-enhanced books, which means they come with author commentary in the page margins.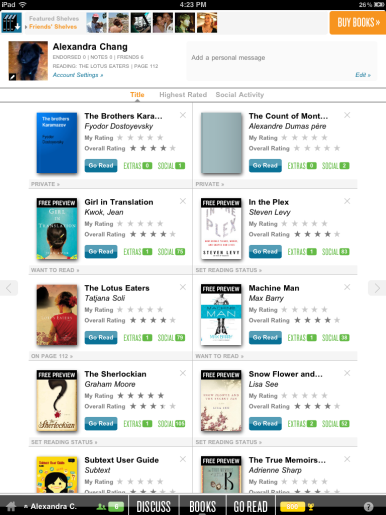 The bookshelves are well-organized and visually pleasant; book thumbnails are displayed into two columns, along with the book title, author(s), and rating (taken from the Google eBookstore), plus Get Book, Extras, and Social icons. Extras shows you whether a book is author-enhanced, and Social displays how many total Subtext users are currently reading the book. Tapping Get Book sends the book information into your bookshelf; from there you can download a preview of the book, if it is available. You can also tap a book and choose Buy Book, which gives you two options: Google ebooks and Kobo. Unfortunately, you cannot purchase a book from within the app; Subtext offers to send you an email with a fast link to the Google eBookstore entry of the book. You have to jump out of the app and into your email and mobile Safari to actually purchase a book. This also means, however, that you can purchase books from the Google eBookstore on your computer, and they will sync to Subtext.
Unfortunately, if you already own a lot of books in Apple's iBooks, Amazon's Kindle, or Barnes and Noble's Nook platforms you won't be able to bring them over into Subtext. All of these platforms are DRM-locked—they can only be read in their native app or hardware. This drawback applies to all third-party iOS ebook reading apps, and is more the fault of the aforementioned ebook retailers than the Subtext app itself. Since Subtext accepts all Adobe DRM-protected ePubs and DRM-free ePubs, and has Google eBookstore, Kobo books, and Project Gutenberg integration directly in the app, you still have access to millions of books—there are 3 million in the Google eBookstore alone.
Once you're (finally) ready to read, Subtext offers a customizable and pleasant reading environment. The pages of the book are similar to Apple's iBooks app: Tap the edge of a page and it turns, tap a word and get a definition, and keep track of what page you are on with the bottom slider. Icons along the top of the page let you customize the font style and size and page brightness, access the Table of Contents, and search the book—but you can also invite friends to read the book with you; open a Book Card that shows a summary of the book, along with how many people are reading it; and change that book's social settings. You can choose whether your notes are private, just for friends, or for the entire Subtext community on note-by-note basis. You can select whose notes appear in your book's margins, on a book-by-book basis.
While you're flipping through the ebook pages, you'll come across note bubble icons in the page margins. Blue note bubbles represent author notes, while grey bubbles denote community notes. I like how non-intrusive these margin notes are on the page; it's easy to skip them if you're really involved in the book and don't want to be interrupted with a note. And for when you're feeling social, tapping a note bubble brings up a new window with the user's or author's note, which you can reply to or endorse. I read one of Subtext's author-enhanced books, and found the included author commentary a particularly valuable feature, one that any reader who wants to add another layer to their reading will love.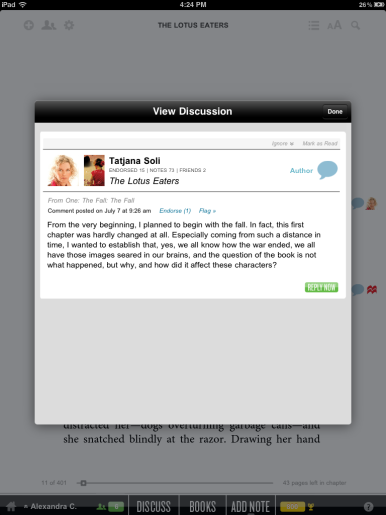 Subtext also makes it easy to add your own note in the pages. Just tap a word and a you'll see an Add Note option. You can add a standard comment, ask a question, or create a poll or quiz. Subtext smartly adds a Spoiler Alert option that users can check to warn other readers that their comment includes a spoiler about the novel.
At the bottom of the book page, you can track what page you're on. Subtext uses universal page numbering, no matter what kind of font or font size you're using. This way you can accurately track where you are compared to others reading the book. So don't feel confused when the page count on the bottom remains at 50 even after you've flipped through a few pages in the app. The app supports reading in both landscape and portrait modes.
I really enjoy reading in Subtext, but the app is not without its quirks and technical flaws. It lacks any page color customization such as Sepia or white text on black background options, which are available in the Kindle iOS app. And while you're reading, the navigation bar remains visible at the bottom of the page. It disappears and is replaced by a definition if you tap on a word in the text, but otherwise there's no way to remove it. It's not terribly distracting, but I prefer a clean page while reading. Similarly, the icons at the top of the page cannot be tapped away like they can be in iBooks. Also, when you've tapped open a note window, you can't just tap outside of the window to close it, like you can with other pop ups in Subtext; you have to tap the Done button to close the note window.
The gaming element of the app is also in need of improvement. Right now, users get 1000 points as soon as they sign up. The points can be used to purchase book extras (author or expert notes), which cost 200 points, for Subtext's 18 author-enhanced books. You can earn points for doing a number of activities, such as responding to or leaving a note. But other than being able to purchase extras, there's little incentive to get more points. You can't see how many points your friends have, so the element of competition is missing.
Other than these qualms, I find Subtext an excellent and unique e-reading app. It successfully brings in a social element, and I really enjoyed reading what authors had to say about certain parts of their novel. Since notes are left directly in the pages, on a passage-by-passage level, you can read and leave very specific comments, rather than the broad summary-like comments you might find on other social reading sites. I can imagine Subtext growing into a very strong community of readers, and with all of the customization that the app offers, it's great whether you want to enjoy a book with a large group of people or prefer a solitary read with only author insight.
[Alexandra Chang is a staff editor for Macworld.]