Back in June, we covered Undock, a nifty utility that makes it easier to unmount your discs, external drives, and network volumes when you're ready to pack up your MacBook and go. Instead of having to open a Finder window (or reveal the desktop) and then eject each mounted volume individually, you just click the Undock menu in the menu bar and choose Undock Now. Any in-progress Time Machine backup is suspended, your removable volumes are unmounted, and a Growl notification appears on the screen letting you know it's safe to put your Mac to sleep and unplug.
(For the uninitiated, in order to avoid possible data loss or drive problems, you should always unmount a volume before disconnecting it. This is why Mac OS X gives you a "disk was not ejected properly" error if you unplug an external drive without unmounting it first.)
I recently came across a similar utility that takes a slightly different approach. Jettison ( Mac App Store link) doesn't offer as many bells and whistles as UnDock, but it has one unique advantage: It's entirely automatic.
With Jettison running, you simply close your MacBook's lid (or, on a laptop or desktop Mac, otherwise put the computer to sleep). Jettison delays sleep long enough to safely unmount external volumes (USB, FireWire, and Thunderbolt hard drives; thumb drives; network shares), plays a confirmation sound of your choosing, and then puts the computer to sleep. Once you hear that confirmation sound, it's safe to unplug and go. If a Time Machine backup is running, Jettison gracefully stops the backup before ejecting your Time Machine backup volume.
For obvious reasons, Jettison prolongs the sleep process to give the utility time to ensure all drives are unmounted (and to play the confirmation sound). In my testing on a 2010 iMac with six external volumes mounted, and on a 2010 MacBook Air with three volumes mounted, putting the computer to sleep with Jettison running takes about 10 seconds.
If for some reason Jettison can't unmount a drive—for example, if a utility like SuperDuper is currently backing up to that external drive—Jettison will play an error sound to let you know it was unsuccessful. You'll need to either wait for the task to complete or quit the offending application and then try again.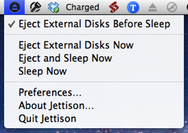 Jettison's optional systemwide menu provides a few extra options. At any time, you can eject all external volumes without putting your computer to sleep or, if you've got a desktop Mac or if you want to keep your laptop's screen open while it sleeps, you can manually choose to eject volumes and sleep. And if you don't like the main unmount-on-sleep feature, you can disable it—permanently or temporarily—and just use the rest of Jettison's features.
What if you don't want to unmount external volumes for a particular sleep—for example, if you want to save energy, or lock your Mac's screen, while you step away for a cup of coffee? In this situation, unmounting everything is a hassle, as you'll need to manually reconnect to remote volumes and remount external drives when you wake your Mac back up. And if you're working on documents hosted on mounted volumes, automatically unmounting could mean bigger headaches. Thankfully, Jettison offers an easy-to-use workaround: If you want to put your Mac to sleep without unmounting any volumes, you just choose the Sleep Now command from Jettison's menu.
Jettison doesn't have all of the accoutrements of UnDock. For example, UnDock can run AppleScripts when when you choose the undock command, it lets you configure a keyboard shortcut for that command, and it lets you choose which specific type of volumes are ejected (drives, network shares, or optical discs). But Jettison doesn't require that you remember to choose a command from a menu, or press a keyboard shortcut, before you put your Mac to sleep.
Jettison is useful on any Mac with external volumes mounted, but road warriors will likely appreciate it the most, as it makes packing up easier than ever—just close the lid, wait for the sound, and unplug.