Panasonic has announced the Lumix GX1, a new entry into its line of micro four-thirds compact digital cameras. This model, targeted to on-the-go enthusiasts, features a 16.01-megapixel Live MOS sensor and operates in low-light situations with a maximum 12,800 ISO. The camera can record HD video at 1920 x 1080 at 60i, with sensor output of 30p in AVCHD format. Photo enthusiasts will be happy to note that this new camera also features a built-in flash and a hot shoe allowing for accessories like an external view finder.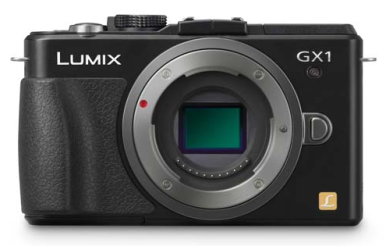 Like other models in Panasonic's G Series, the GX1 uses Contrast AF as a focus system, meaning that focusing is controlled by the image sensor. Moreover, the GX1 incorporates full-area focusing, so users can set the focus on any point in the field of view.
The camera's 3-inch touch LCD screen is designed to make frame composition easy and intuitive. The touch-control system lets users set the focus by touching the subject on the 460,000-dot screen. Users can even release the shutter by touching the screen. Once locked on the subject, the GX1 tracks the subject as it moves.
The GX1 looks like it was cut from the mold of earlier GF series cameras, which is a good thing. The GF2 and GF3 were smaller and used a touchscreen for a lot of controls, which added to the time needed to access certain common settings. For instance, both lacked a physical mode dial.
The GX1 looks like a better fit for traditional photographers. It has a touchscreen for touch-focus features and physical controls, so it's the best of both worlds, at least in theory. It also uses Panasonic's newer powered-zoom lenses, which are pretty cool (you zoom using a lever on the side of the lens barrel instead of manually twisting the lens—although you can also zoom by twisting the lens like a traditional DSLR). Users can customize the two external buttons and two menu tabs to their most frequently used settings. Four custom setting patterns can be stored to the camera's model dial.
With a dedicated video recording button on the top, users can simultaneously record video and shoot photos. Along with full-HD video capabilities, this model also features high-quality sound, recorded with Dolby Digital Stereo Creator. Videos can also be recorded in MP4 format for playback on a computer or portable electronic devices without file conversion.
The Panasonic Lumix GX1 will be available in black and silver in mid-December for $700 (body only). Two combinations of lens kit options will also be available in prices ranging in price from $800 to $950.
Panasonic Lumix DMC-GX1 Mirrorless Camera