If you're a doodler, scrapbooker, collage-maker, or just someone with a lot of unused artistic energy, you might find the perfect outlet in Mixel, a new iPad app from Lascaux. The app offers a platform to create, share, and remix mixels—digital collages made with images from the web, the app's image library, and personal photos.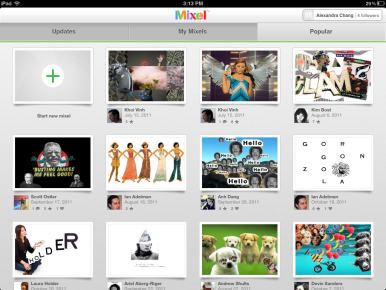 Mixel aims to reach a broad audience, and attempts to do for art what's been done with photography. New tools like the iPhone camera and apps like Instagram have turned everyone into a photographer, making photo-taking a more casual, fun, and social experience. "The key ingredient currently missing from art-making software is social," Khoi Vinh, co-founder of Lascaux and former digital design director of The New York Times, told Macworld. "If you could combine art-making with a dynamic social graph, then it can become addictive."
Like on other social networks, Mixel lets you follow users, like posts, and comment on individual entries. The app requires that you sign in with Facebook, and automatically finds any Facebook friends you have on Mixel, recommends users worth following, and lets you invite friends from your iPad's address book so that you aren't alone in the app. And making Mixel easy to use offers a low-risk environment for artists and non-artists alike to engage in the art-making and sharing process.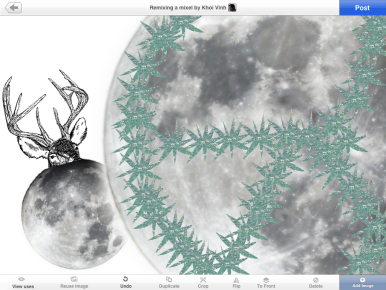 Actually making a mixel is simple—I put together my first mixel in just a few minutes, and while it's not the most stunning work, it was a fun and easy process. Creating mixels on the app is similar to physical collage making. Instead of magazine, newspaper, and personal photo clippings, users choose images from their iPad camera roll or Facebook photos, Mixel's image library, and images from the web. (Keep in mind, however, that personal photos that you post on Mixel—say of you or your family—do become available for everyone to see and use on the app.) Fingers replace scissors and glue—multitouch gestures let you crop, resize, rotate, flip, duplicate, and combine images on a blank canvas.
Once you're done with a mixel, you post it to the app, making it visible to Mixel users. You can see other mixels by browsing the Popular tab, or by following users, whose mixels will then appear in your customized Updates tab. In the My Mixels tap, you'll find all of your in-progress and posted mixels.
One of the most interesting features about Mixel is the ability to remix other people's work. Once somebody posts a mixel, all of its image components become available on the Mixel server for reuse. If you find a mixel you particularly like, you can choose Remix, which will open up a new mixel with all of its images available for you to rearrange and re-crop. If you only want to use a certain image from another person's mixel, you can choose to do that as well.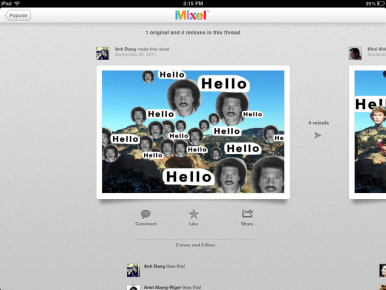 Visual threads allow users to see who else has remixed a mixel and what mixels use a specific image. Users can also share mixels—their own or another user's—via Facebook, Twitter, Tumblr, or email; you can also open the mixel in Safari or save it to your camera roll. All of these social and collaborative elements make the app a great source for image and art discovery.
As someone who falls into the non-artist category, I found Mixel very engaging, and yes, even addictive. The app succeeds at creating a non-intimidating environment—many of the posted mixels are more funny than artistic. For example, there are several that include bearded strawberries, or puppies doing silly things like smoking a pipe in a library. There are certainly more artistically compelling pieces, but overall, the app has a very playful atmosphere.
Mixel is a unique app that's great for anyone who is even remotely artistically inclined. You can download Mixel for free from the App Store; it requires an iPad running iOS 4.0 or later.