Hope you're in a firmware-updating mood, because Apple's released updates for both the MacBook Pro as well as the AirPort Base Station and Time Capsule.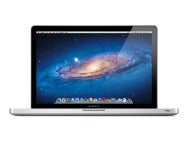 The MacBook Pro SMC Firmware Update 1.5 addresses a scary issue where a laptop might shut itself down if it's being heavily used while it's plugged in and has a near-empty battery charge. In order to update the machine, you'll need to plug it in and have a battery charge of at least 25 percent. The 730KB download is available via Software Update or Apple's support downloads site. Apple doesn't specify exactly which MacBook Pro models are eligible for the update, so it's best to run Software Update and see if the new firmware is listed.
Meanwhile, owners of AirPort Base Stations and Time Capsules have the 7.6 firmware update to look forward to. The update, which applies to all 802.11n AirPort Express, 802.11n AirPort Extreme, and Time Capsule models fixes problems with performance on overlapping wireless networks, AirPlay audio streaming, and configuring multiple entries for DNS servers.
The 7.6 firmware update also fixes a security flaw in which an attacker might be able to send malicious DHCP responses to execute arbitrary code.
To update your AirPort Base Station or Time Capsule, you'll have to use AirPort Utility 5.5.3 or later on your Mac or PC or Apple's new AirPort Utility for iOS.