Between the iTunes Store, iBookstore, App Store, and Mac App Store, Apple makes it easy to download myriad types of electronic media. Finding that media, though, could be easier. You search for iOS apps, music, movies, TV shows, ebooks, iBooks, audiobooks, podcasts, and more by opening iTunes, switching to the Store view, and then clicking in the search field. Even if you never get podcasts or TV shows from the iTunes Store, the results of your search always include every category. And if a category contains more than a few results, you've got to click again to switch to the "all" view. Looking for Mac software? You've got to open a different program—the Mac App Store app—and perform your search. Some of us use a launcher utility such as LaunchBar or Butler to initiate such searches, but we still need to access each store separately.
If you've ever thought to yourself, "There's got to be an easier way," you'll appreciate Tunesque ( Mac App Store link), a convenient and free app that consolidates all your searches of Apple-hawked media in a single interface. (Tunesque is funded by a small referral fee the developer gets when users purchase media through Tunesque.) Tunesque sits in your menu bar: Click its icon, or press its customizable keyboard shortcut, and you're presented with a search field. Type your search query—the name of a song, an artist, a book, or an app, for example—and a list of results drops down.
As Tunesque searches Apple's various online stores, the results list fills with matches, separated by category, with each result displaying the item's title; artist, author, or developer; and price. (Tracks with a disc icon instead of a price are available only by purchasing the entire album. iOS apps with a plus sign [+] next to the app name are universal apps that run natively on both the iPhone and iPad.)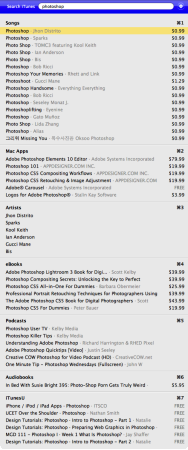 Move the mouse cursor over an item, or use the up- and down-arrow keys to select the item, and a pop-over displays more information about the item. For example, for apps, you see the app icon, current app-store rating, price, full app name, developer name, and app description; for music tracks, you see the track's album cover, price, title, and artist; for movies, you see the movie's "DVD jacket," price, title, director, and synopsis. For musical artists, the pop-over displays a list of all available albums by that artist. Click any item in the menu or in a pop-over, or press Return with an item selected, and Tunesque whisks you away to the appropriate app—Mac App Store or iTunes—and takes you directly to the page for that item.
If your search produces a lengthy result list, you can click any category header, or press the keyboard shortcut listed next to that header (for example, Command-1), to collapse all other categories, showing only results for the chosen category; press Command-0 to return to the full list. One interface oddity here is that a category may actually contain more results than are shown, but Tunesque doesn't make you aware of such an overflow until you actually switch to that category. I wish Tunesque displayed a More… button or link at the bottom of a shortened list so you'd know to expand it.
Unfortunately, there's no way to display just albums in Tunesque's search results. According to the developer, this is because the API (application programming interface) developers can use to search the iTunes Store doesn't provide a way to search for albums. If you hold the cursor over an artist or song in the search results, you can view associated artists, but that's the extent of album support until Apple enhances the search API. (The API also doesn't allow for searching iTunes U—the developer of Tunesque has had to perform some clever machinations to be able to offer a separate iTunes U category.)
Tunesque helpfully retains its search results when you switch away—for example, to view an item in iTunes—so that when you come back to Tunesque, you can continue browsing your results without having to perform your search over again. If you want to clear the list, simply perform another search. (The developer told me Tunesque is supposed to display a button that manually clears the results list, but a bug is keeping the button from appearing; this should be fixed in an update.)
Tunesque's preferences window hosts some useful settings you'll want to configure. First and foremost, you can choose which country's stores should be searched. But you can also choose which types of media are included in searches: Music, Movies, TV Shows, Artists, Mac Apps, iOS Apps, eBooks, Audiobooks, Podcasts, and iTunes U. (I wish you could also choose the order in which these categories appear in the results list.) And you can choose either light text on a dark background or dark text on a light background.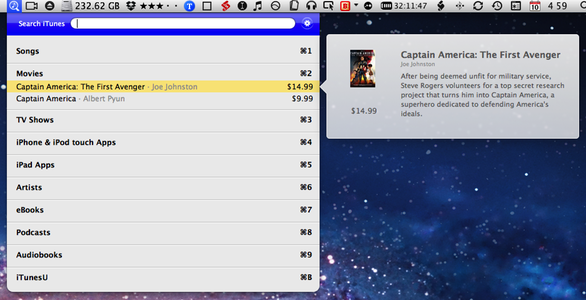 In my testing, Tunesque worked well, although sometimes I had to enclose a song's title in quotation marks in order to get meaningful results. According to the developer, this is due to the iTunes Store, rather than Tunesque; indeed, I got similar results by performing searches directly in iTunes. (This also means any search syntax you can use in iTunes or the Mac App Store also works in Tunesque.) If you're a frequent customer—or if, like me, your job entails finding products in those stores—you should give Tunesque a try.
(Disclosure: Macworld contributor Marco Tabini is the proprietor of MTA, Inc., the developer of Tunesque. However, I covered Tunesque for Mac Gems because I personally find it quite useful.)
Want to stay up to date with the latest Gems? Sign up for the Mac Gems newsletter for a weekly email summary of Gems reviews sent directly to your Inbox. You can also follow Mac Gems on Twitter.