A new video-viewing app released Friday for the iPad puts you right behind a photojournalist's lens. Developed by seasoned war photographer Danfung Dennis, Condition One aims to fully immerse the viewer in a scene by giving you control over the field of view.
At the heart of Condition One is the specialized camera system used to capture the video. The conflict photojournalists use the camera in the field to essentially capture a simultaneous panoramic video of a scene so that viewers can later choose how to frame the video themselves. "Instead of opening a window to glimpse another world, we are bringing the viewer into that world as an active participant," Dennis told Macworld.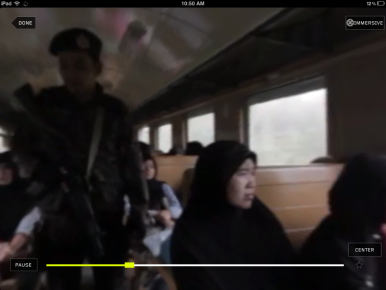 The controllable perspective of Condition One is a truly unique experience. With a swipe of the hand or a tilt of the iPad, you are suddenly controlling where you look in the scene. You can watch an arrest in New Orleans, or flip that same scene around to see the reactions of bystanders as the conflict unfolds. It is a terrifying, stimulating, and fascinating experience.
Though the app itself has a few kinks—it crashed three times when I was trying to watch the videos—Condition One has some interesting implications for the photojournalism industry. Dennis says that the power of tablets motivated him to create the app. "The role of the next generation photojournalist and filmmaker will be developing the syntax and grammar to tell an effective story in this new medium. The traditional rules of cinematography and editing no longer exist," he said.
In this new realm of journalism, Dennis hopes that Condition One can better convey the complex emotions of not only conflicts, but any story that might be enhanced with immersive video. In the future, Condition One plans to work with media companies interested in creating branded channels within the app, or licensing the technology to embed in their own existing apps.
Condition One is available as an App Store download; it currently features free content from French war and conflict photographer Patrick Chauvel's work in New Orleans, Libya, and Thailand. The app requires an iPad running iOS 4.2 or later.