When you enable iTunes Match on an iOS device (Settings -> Music -> iTunes Match), you'll see a warning that "iTunes Match will replace the music library on this device." When iTunes Match was still in beta, that message was true to its word: Any music you had on your device was indeed deleted, in favor of the library you'd uploaded to the cloud via iTunes Match. But in the official version of iTunes Match released Monday, that's no longer the case. In truth, any music that was on your iOS device before you enabled iTunes Match will still be there—and that fact can save you on time and bandwidth.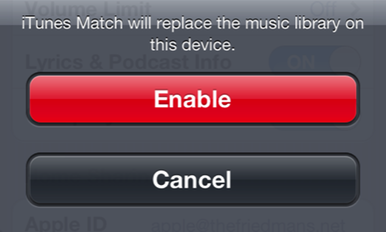 After you've enabled iTunes Match, it downloads songs to your iOS device on an as-needed basis: When you tap on an individual song, iTunes Match downloads it first, then starts playing it. (That accounts for the slight delay you'll notice before the track begins; iTunes is buffering the download.) After you've played that song once, the downloaded copy stays on your device. The next time you want to play it, it'll already be there; it doesn't need to be downloaded again. Tracks that are available via iTunes Match but haven't been downloaded yet are marked with an iCloud icon. Once you tap to play them, that icon disappears.
But those already-played songs aren't the only ones you'll find on your device: Despite Apple's warning, any songs that you had synced to your device prior to turning on iTunes Match will still be there. They don't display an iCloud icon; your device and iTunes Match are smart enough to recognize that the tracks are already available.
However, after you enable iTunes Match, you can no longer sync music via iTunes; if you try, the Music tab for your device in the iTunes app will indicate that iTunes Match is on and will offer the option of syncing Voice Memos only. So let's say you want to have the $149 complete Beatles anthology —more than 250 tracks—on your iOS device. You bought it some time ago, but never synced it to your iOS device. Now, the only apparent way to get all of those tracks on your device again is to tap on The Beatles from the Artists tab, scroll to the bottom of the albums, and tap Download All. That would seem to be a big waste of time and bandwidth.

Fortunately, there's a workaround, which leverages the fact that enabling iTunes Match does not actually wipe out your iOS device's library. The trick? Disable iTunes Match on your iOS device first, under Settings -> Music. Now sync the tracks you want on your device. Then turn iTunes Match back on.
The good part is that any songs you've already downloaded to your device from iCloud stay there even after you disable iTunes Match, and they'll still be there when you reenable it, too. In other words, you can use this trick to sync tracks from your iTunes library as often as you'd like, without adversely affecting your iTunes Match setup at all. The only thing you'll lose is the few seconds it takes your iOS device to re-download all your playlists and song metadata when you turn on iTunes Match again.
There is one big caveat to this approach: It will only work for songs that exist in your iTunes Match library. That is, if you turn off iTunes Match and then sync a few random tracks that aren't part of your master library, those songs will vanish after you turn iTunes Match back on. So while it's a useful trick for preloading your iOS music library with songs so that you won't need to re-download them from iTunes Match, it won't work for expanding your library to include songs that you're not matching with the service.