So you've bought iTunes Match, which gives you access to shiny new 256kbps AAC versions of your audio files. But by default your iTunes library is still packed with your old files. So how best to upgrade all of those old files, in place, to the new versions?
Here's how to do it—keeping in mind that you can only do this after you've completely turned iTunes Match on:
Make a Smart Playlist Create a Smart Playlist with the following attributes:
Bit Rate is less than 256kbps
Media Kind is Music
Any of the following are true: (to create this conditional, option-click on the plus button in the Smart Playlist window) iCloud status is Matched, iCloud status is Purchased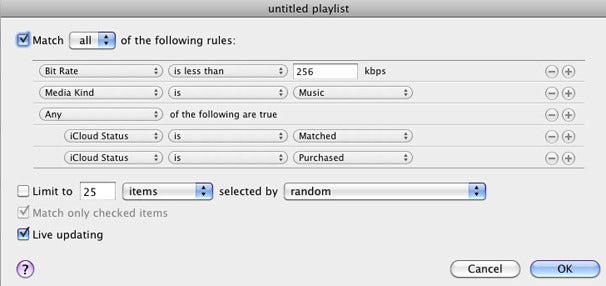 This creates a list of all your low-bit-rate files that are upgradeable—namely, ones iTunes Match has deemed Matched or Purchased.
Delete all those files Click on the Smart Playlist you made. Now comes the scary part. You'll need to delete all the files in that playlist. The good news is, having them on iTunes Match means they won't really be gone. Select all the tracks in your playlist, and then hold down the option key while pressing Delete. (On the PC I'm told it's shift-Delete.) This will force iTunes to delete all the tracks you've selected. Be sure to not select the box that would delete them from iCloud! But if iTunes offers to move the files to the trash, say yes.
Bring 'em back In the old days, deleting all the tracks in a playlist would leave you with an empty playlist. But we now live in the era of iTunes Match, so all those tracks should still be there—but now they're marked as being available only in iTunes Match. Select all of them again, then control-click on the selection and choose Download. (Sometimes, the Smart Playlist updates too quickly and your deleted files vanish. If this happens, don't worry—just switch to your library and click on the cloud icon in the header to sort by cloud status. Or, to make things even easier, create a second Smart Playlist with just three criteria: Location is iCloud, Location is not On This Computer, and Media Kind is Music. The resulting playlist will include every song you can download from iTunes Match. Either way, select all the matched songs, Control-click, and choose Download.)

iTunes will now begin the long process of re-downloading all your files. This will take a while. I had nearly 2,000 songs to re-download. But it works! If you're reluctant to download thousands of songs at once, delete only some of the items in the smart playlist at a time.
Updated Nov 16 at 7:45 a.m. PT to include a bonus tip about creating a second Smart Playlist for finding the matched songs you can download.