Editor's Note: The following article is reprinted from CIO.com. Visit CIO's Macs in the Enterprise page.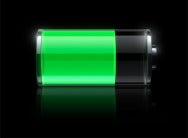 Last week, Apple fixed a software bug with iOS 5.0.1 that was causing a syncing error loop which was draining some iPhone 4S batteries. The vast majority of iPhone owners, however, were not affected by the bug, and should not expect the fix to lead to a leap in battery life performance.
"The battery drains I've seen are very significant: the phone will last for only a couple of hours," says Kyle Wiens of iFixit. In other words, if you've got a battery problem due to the software bug, you'd know it.
The fact that few people are affected by the bug hasn't stopped iPhone 4S owners from lighting up user forums about poor battery life. Although the iPhone 4S battery is slightly larger than the iPhone 4 battery, chances are you're experiencing a dip in battery life. That's because, generally speaking, lithium battery technology hasn't been able to keep up with fast-evolving smartphone technology.
The iPhone, which ushered in the smarphone era, has been the poor battery life poster child among smartphones, perhaps wrongfully so. Compared to Android 4G phones with huge screens-backlit screens are the biggest energy users-and power-inefficient 4G chipsets, the iPhone is a battery champion.
Power-inefficient 4G chipsets are the reason Apple stayed with 3G chipsets in the iPhone 4S, which Wiens correctly predicted despite other industry analysts expecting a 4G iPhone this year. "It's the chipsets and faster wireless protocols that are really the battery hogs," he says. "Look at the battery life of every new 4G phone; it's not acceptable."
Sure, the iPhone 4S taxes the battery more so than its predecessor. For one thing, iOS has become a very complex operating system with fancy iCloud syncing codes, which probably led to the software bug and fix last week. Then there's the plethora of sensors, GPS chips and new antenna designs.
Moreover, iPhone owners are leaning on their smartphones more than ever before. They're watching Youtube, playing games, checking Facebook, surfing the Web, reading emails, making video chat calls, logging their locations, and shooting pictures and video-all of which tax a lithium battery that hasn't changed much over the years.
Is Siri a battery hog?
The iPhone 4S shines an infrared LED proximity detector when the phone is on so that Siri activates whenever you lift the phone to your ear. Some battery-saving tips recommend you turn this feature off, but this is a low-power component. "Doesn't really have much to do with battery life," Wiens says.
On the other hand, if you're using Siri a lot, you're using more CPU cycles and battery life. Siri must compress your spoken words, send them over the network and get a response back. "In terms of power use, Siri is probably comparable to browsing the Web," Wiens says.
Bottom line: The iPhone 4S has pretty good battery life among smartphones. "I've got every last feature on the iPhone 4S turned on, such as find my friends, iCloud syncing," Wiens says, "and my battery life has been phenomenal."
[ Tom Kaneshige covers Apple and Networking for CIO.com.]