More than a few of the task management apps for iPad are complicated affairs, lacking intuitive ease and sometimes drowning a user under a sea of organizational options. Often, they bear hefty price tags to boot. Next, a $10 offering from LefTurn Labs, is easy to understand and use, but sometimes it leaves you wishing it had a few more bells and whistles to help you really get things done.
What Next does, it does well: It lets you make lists of projects and goals, and it offers the ability to link your projects to overall goals. Within projects, you can create a list of actions that will help you complete the job, and you can set start and end dates in each category; you can even designate a task as the "next" one that must be completed. Goals, projects, and actions can all be tagged—either with a pre-set list of tags already available within the app, or with new tags that you create. As you complete actions and projects on your way to a goal, a progress bar measures your efforts. And when you complete a task, just check the box next to the entry: Next! sends it to the archive.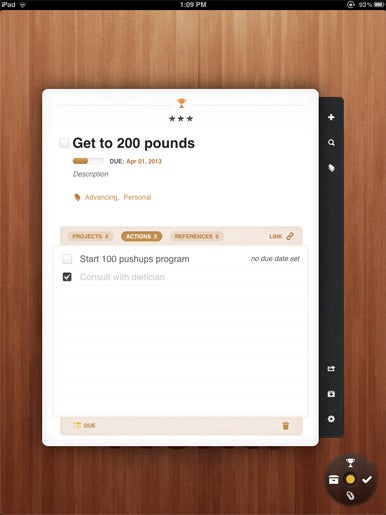 There are other nice options, like the ability to take notes during meetings and attach them to your action lists; you can also attach photos and share everything via email. Where Next really shines is in its user interface, which lets you thumb-swipe between goal and project pages easily. (And this left-hander is particularly grateful for the option to toggle controls for optimum use with your dominant hand.) It's a cliché by now that computer technology puts information "at your fingertips," but the ability to move around so easily and gracefully within this app makes that phrase literally true. It's a joy to use.
It's so much fun, in fact, that it takes awhile to notice that there are some features that would make Next more useful. A calendar, for one: The list view that Next offers is useful, but calendars can sometimes help you orient your projects in time more easily. And deadlines sometimes don't just arrive by the day—the day has 24 hours after all. It would be nice if the app let you set a specific time a project was due.
The app's bigger drawback is that it stands alone, instead of in a broader ecosystem of services. The task list you make on your iPad will stay on your iPad, email sharing possibilities notwithstanding. iOS apps such as Toodledo and Remember The Milk offer synced web services—so that if you're on your desktop computer instead of tablet, you can still monitor and manage your to-do list. Similarly, Omnifocus, a luxury-level task manager, offers iPhone, iPad, and Mac apps. We all love our iPads, but they're rarely our only tool in the workplace; the best productivity apps meet you on any device you happen to be using.
Next isn't yet among the best productivity apps. But it's so easy, even fun to use when I'm using the iPad that it's fair to call it pretty good. That'll do—for now.
[Joel Mathis is a freelance journalist and political columnist for Scripps Howard News Service. He lives in Philadelphia.]