Nowadays, keeping a personal diary probably isn't the first task people think of when sitting down with their Macs—thanks to social media services such as Facebook and Twitter, it's become commonplace to publish all but our most-private thoughts publicly. But what about those personal thoughts and accounts that you don't want to forget, but prefer not to broadcast to the world?
Day One ( Mac App Store link) might be your answer. Day One is a journaling app that focuses on making it easy to jot down private thoughts, ideas, or anything else you want to keep for posterity, and revisit it all down the road. The program offers a unique, yet straightforward and polished interface for creating entries, as well as calendar tools for revisiting recent entries or quickly flipping back through the months.
One of Day One's primary strengths is its ease of use and the ways in which its developers have lowered the bar for getting your thoughts out of your head. The box for penning your entries is pleasantly minimal and devoid of styling tools and other unnecessary controls, but you can still perform actions such as applying a specific date to an entry (other than the current day and time, of course—that's applied automatically if you don't specify otherwise), or starring an entry for easy follow-up. Developer Bloom Built also placed an Inspirational Message area above the entry field in case you could use a nudge in the right direction. For more inspiration, the program displays a random assortment of general questions and journaling tips, such as "What have you dreamed about lately?" and "Don't become obsessed with fact to the exclusion of emotion." (If your own personal muse offers plenty of inspiration, you can disable this feature.)
Bloom Built also added a systemwide menu as another way to make it easy to write in your journal. Click this menu icon, and a miniature add-an-entry box appears to let you quickly jot down a few thoughts without having to truly switch gears and open the main Day One app. You can even type a few words, click back to what you were doing, then return to the menu-bar entry box to resume what you were writing—all before you have to hit the Save button.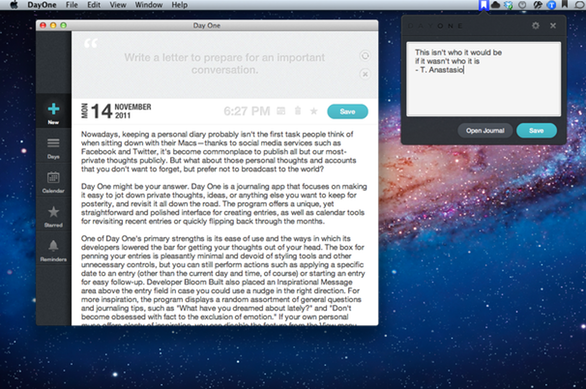 Since Day One is designed to be your safe, offline, and private journal, it lets you add an alphanumeric password to lock your journal, specify how long the program should wait to lock itself automatically, and choose to automatically lock Day One whenever your Mac goes to sleep. Currently, your Day One data isn't encrypted, but the company says that feature is planned for an upcoming release.
Speaking of upcoming features, Bloom Built says it also plans to resolve my only other real complaint about Day One: In the app's current version, there's no way to add anything but text to your journal entries. A future update will allow you to add photo attachments.
I reviewed the Mac version of Day One, but it's worth mentioning that Bloom Built also provides a $2 iOS version of Day One that's native for both the iPhone and the iPad. You can sync your entries between multiple Macs and iOS devices via Dropbox, and the company plans to add support for iCloud syncing, as well. A wonderful perk of Day One for iOS is that it maintains much of the aesthetic of the Mac version—it's just as easy to get comfortable with the mobile version as it is with Day one for Mac, which is, for me, a requirement of any journal, digital or otherwise.
Of course, the big question is whether or not Day One will convince you to keep a journal or, as is the case with many of us, start one to begin with? I can't speak for you, but since discovering Day One in August, I've found myself journaling in it regularly, even while maintaining my usual Facebook and Twitter activity. Bloom Built has put together a polished journaling tool for the 21st century; I really enjoy using Day One to store thoughts and experiences that are for no one's eyes but my own.
Former Macworld associate editor David Chartier is a Herald for AgileBits, chief wrangler of the Finer Things in Tech, and is happy to keep a diary next to his pillow again.
Want to stay up to date with the latest Gems? Sign up for the Mac Gems newsletter for a weekly email summary of Gems reviews sent directly to your Inbox. You can also follow Mac Gems on Twitter.