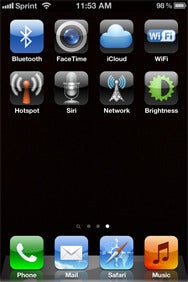 Before Apple released an iOS update to address battery life, I, like many others, tried to figure out what was causing my iPhone 4S's battery life to quickly drain. Coping with this problem involved what seemed like constantly adjusting various settings. And while the iOS settings are very easy to navigate, it can start to wear on you, if, for example, you need to drill down to turn off cellular data (Settings -> General -> Network) a few times a day. Sure, it takes only a few seconds and a few taps, but there's got to be a quicker, more efficent way.
There is, fortunately. IconSettings allows you to create Home icons for the settings of your iOS device, without needing to jailbreak your phone or tablet. It's easy to do; visit the IconSettings site on your iOS device, scroll down to the Settings list, and select the link for the setting you want to appear on your Home screen.
You'll then see a screen asking if you want to open the page in Settings. Tap Cancel, and you'll see a webpage with the setting in a bold header and, "Add this page to your homescreen,and [sic] let the icon load!" You then add this webpage to your Home screen, which lets you quickly access that setting by tapping on its icon.
IconSettings works by using the unique URLs that each iOS setting is assigned. In essence, you're creating bookmarks on your Home screen of each setting, which means that your iOS device will quickly switch to Safari first before switching your screen to the setting. Some may find this annoying, but I find it less annoying than having to tap multiple times to get to a setting.

There's one other little quirk with IconSettings: When you are in the process of adding an icon to your Home screen, it can take a few seconds for the actual icon to display in the Add to Home section of the process. Wait a few seconds before tapping Add, or else you'll get an icon representation of the webpage you were just on (see screenshots, right).
[Source: Engadget and MacStories.]