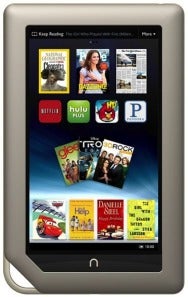 Barnes & Noble began selling its new 7-inch Nook Tablet for $249 on Wednesday, earlier than executives said it would appear.
One store in Harrisonburg, Va., had three Nook Tablets on sale for the general public at the time of the store's opening at 9 a.m. ET Wednesday, a clerk said. Many other pre-ordered Nook Tablets were also available for sale Wednesday at the store, located near James Madison University in western Virginia.
Engadget reported a Nook Tablet sold at a Barnes & Noble store on Tuesday, but didn't indicate the location.
A Barnes & Noble spokeswoman told CNET that the Wednesday store arrivals of the Nook Tablet are two days before the "end of week" arrival that executives had announced on Nov. 7 . But the Wednesday arrival conforms to a leaked presentation on the Nook Tablet that circulated days before the Nov. 7 announcement.
The early arrival of the Nooks shows that Barnes & Noble doesn't want to be outdone by Amazon, which shipped its $199 Kindle Fire 7-inch tablet a day early on Monday.
Analysts predict a fierce competition between the two tablet makers, and said that neither wants to slip-up with initial shipments.
Note: When you purchase something after clicking links in our articles, we may earn a small commission. Read our affiliate link policy for more details.