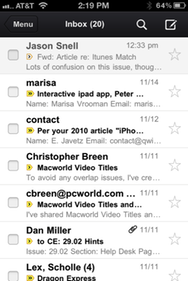 Two weeks ago, Google released a Gmail app for iOS. Thirteen days and 20-something hours ago, Google pulled that app from the App Store, citing an embarrassing error with the app's push notification support. On Wednesday, Google re-released the app with the notification error fixed.
Two weeks is a long time to fix the error. Some were optimistic that Google's delay in releasing an updated version of the app meant that it was addressing Gmail's other perceived shortcomings. Such optimism was misplaced.
The bulk of the app is still merely an embedded browser pointing to Google's Web-based version of Gmail. The app still supports only a single Gmail account. And swipe to delete (or archive) still doesn't work, either.
Gmail for iOS is free, optimized for the iPhone and the iPad, and requires iOS 4.0 or later. If you had previously installed Gmail, Google says you should uninstall it or log out of the app before installing the new version.