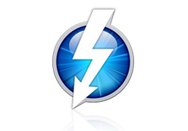 Since Thunderbolt has made its way on to new Macs, and Thunderbolt peripherals are making their way to market, we've posted several reports on Thunderbolt's performance. But readers frequently asked about connecting to Thunderbolt, especially when you have multiple devices.
In this guide, we'll take a look at the different ways you can connect devices to Thunderbolt. Combining PCIe and DisplayPort technologies, Thunderbolt offers fast and versatile connectivity. But where you place devices in a Thunderbolt daisy-chain is important.
Connect one Thunderbolt device
The simplest connection involves attaching a Thunderbolt-equipped peripheral to a Mac's Thunderbolt port using a Thunderbolt cable.
When you buy a Thunderbolt peripheral, it may not include a Thunderbolt cable. The first Thunderbolt storage devices to make their way to market, the LaCie Little Big Disk Thunderbolt Series and the Promise Pegasus line, do not come with Thunderbolt cables. Apple's Thunderbolt Display has a non-removable Thunderbolt cable (it also has a rear Thunderbolt port). Right now, Thunderbolt cables are available only from Apple for $50.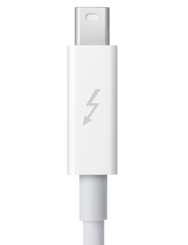 Multiple Thunderbolt devices: Daisy chain
All Macs in Apple's current lineup except the Mac Pro feature at least one Thunderbolt connector. All of the Thunderbolt peripherals we've tested have two Thunderbolt ports so you can connect additional Thunderbolt or Mini DisplayPort peripherals by creating a daisy chain. The term daisy chain refers to a string of devices with one connected to another, instead of each device connecting directly to the host (which, in this case, is a Mac).
For example, let's start with a 2011 MacBook Pro, which has one Thunderbolt port. To the laptop, you can connect a LaCie Little Big Disk Thunderbolt drive. You can then connect a Pegasus R6 to the LaCie's second Thunderbolt port. Then you can connect an Apple Thunderbolt Display to the Pegasus' second Thunderbolt port. (Since the Thunderbolt Display has USB 2.0 and FireWire 800 ports in addition to Thunderbolt, you can then connect FireWire 800 devices, USB peripherals, and even more Thunderbolt devices to the Thunderbolt Display.)
Non-Thunderbolt devices on the daisy chain
Displays that use Mini DisplayPort, such as an Apple LED Cinema Display can connect using Thunderbolt and can be added to a daisy chain, but only as the last device.
Another caveat with the LED Cinema Display: It can't connect to the rear Thunderbolt port on an Apple Thunderbolt Display. Some other Thunderbolt peripheral needs to sit between the Thunderbolt Display and the LED Cinema Display. You can connect a Thunderbolt drive to the Thunderbolt Display and then connect the LED Cinema Display to the Thunderbolt drive.
Some adapters will allow you to daisy chain. For example, the Promise SANLink is a Fiber Channel adapter with two Thunderbolt ports, which allows it to be anywhere on a chain. However, the Sonnet Echo ExpressCard/34 Thunderbolt Adapter, which lets you use ExpressCard/34 adapters (such as ones for FireWire 800 or eSATA), has only one Thunderbolt port, so it must be at the end of a chain. And in this case, if you happen to have a LED Cinema Display on the chain that's your only display, then you're caught in a situation when you can't really use the adapter.
Thunderbolt device support
Not all Thunderbolt-enabled Macs offer the same level of peripheral support. The 2011 MacBook Air uses the Eagle Peak Thunderbolt controller which offers two 10Gbps bi-directional Thunderbolt channels and supports one DisplayPort connection. The 2011 MacBook Pro, iMac, and Mac mini use the Light Ridge Thunderbolt controller, which offers twice the number of bidirectional Thunderbolt channels and supports two DisplayPort connections.
One thing we haven't seen yet is a bus-powered Thunderbolt peripheral. Of course, we wouldn't expect a six-drive RAID like the Promise Pegasus R6 to operate under bus-power. However, LaCie offer the Little Big Disk with a quad interface (it can connect to USB 2.0, FireWire 800, FireWire 400 via FireWire 800 adapter, and eSATSA), a drive similar to the Little Big Disk with Thunderbolt. The quad interface laCie drive can run on the power provided by FireWire, while the Thunderbolt version can't. Thunderbolt does provide 10 watts of power, but the cable itself uses a significant portion of that power, and if you were to daisy chain other peripherals off of the LaCie, it may not provide enough power to spin up the drives.
Thunderbolt devices using a single 2.5-inch drive or SSD will most likely be coming to market in the near future and will probably be able to run off Thunderbolt bus-power alone.
[James Galbraith is Macworld's lab director.]