Though the world at large may be more excited for the new Muppets movie, Apple enthusiasts have a different sort of screening to look forward to: Starting Wednesday, November 16, Landmark Theaters will be showing 59 lost minutes from Robert Cringely's 1995 interview with Steve Jobs, originally captured for use in the PBS miniseries, Triumph of the Nerds. I had a chance to preview the film, and though the video quality may not win any awards, the content is far and away worth the hour or so of your time.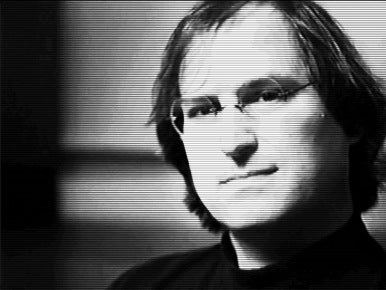 On the big screen, it's not much to look at. The interview was rescued off a VHS copy, and there are few edits beyond Cringely's occasional freeze-frame and voiceover narration to transition from one topic to the next. While some viewers may wish for more visual pizazz, I'm glad Cringely and his team left the video mostly as-is: Jobs commands the screen, even in his pauses, and the subtle reactions in his body language and conversation are remarkable to watch.
The interview is also terrifically candid, in part due to the lack of edits. Cringely has left in most of his original back-and-forth with Jobs, which leads to some fascinating moments. For example, at one point Cringely (who remains off-screen for the entirety of the conversation) asks about Next, the company Jobs was running at the time of the interview. Jobs squints off-screen. "You don't really want to hear about Next, do you?" he says, waving his hand as if to shoo away the courtesy question. "Yes, I do," insists Cringely.
Though this video is 16 years old, the topics discussed rarely feel dated. Though Jobs does comment on how he saw Apple and Microsoft at that point in time, most of the conversation sticks to more universal topics: wealth, running a company, picking the right people, content versus process, the digital publishing industry, and his vision of the future. They even touch on the nerds vs. hippies debate.
If you've read the Isaacson biography, or any number of other Jobs-centric books, you'll certainly recognize stories and themes, but those aren't really the point here. It's really all about Jobs. Off the page and on display, his quirks reveal humanity and warmth. He jokes about being a hippy. He takes half a minute to ponder a response. And when Cringely asks, "What does it mean when you tell people their work is s—," Jobs smiles.
"When you get really good people, they know they're really good, and you don't have to baby people's egos so much," he says. "The most important thing I think you can do…is to point out to them when their work isn't good enough… to get them back on track." He shrugs. "I don't really care about being right, y'know. I just care about success."
The 70-minute interview is playing in theaters in a variety of cities. For people in the industry, the interview is a must-see; even if you have only a passing interest in Jobs the man, you'll leave the theater with something special.
[Updated 4:10 p.m. to correct the date of screenings, which begin this week.]