Kindle Fire week continues here at the Macalope's little corner of Macworld, as we look at expectations and the setting thereof.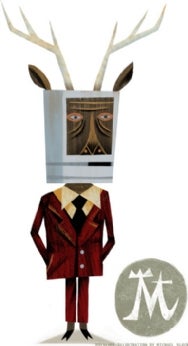 Today we look at two (2) pieces that paint very different pictures of the Fire.
Yahoo's Taylor Hatmaker lays out 5 killer features on the Kindle Fire that you won't find on the iPad (tip o' the antlers to Hugh Ross).
Meanwhile, The Daily's Peter Ha says the Kindle Fire tries to do a lot, and fails at almost everything (tip o' the antlers to The Loop).
Uh, wow. Are they talking about the same tablet?
Now, the Yahoo piece is deliberately written to be one-sided. The Macalope's not sure why someone would do that, as it's a pretty pointless exercise, but for some reason some outlets think it's just their job to write things—even if they don't make sense.
What makes Hatmaker's list?
1. Unbeatable price
Did you know that the Kindle Fire is priced much lower than the iPad? It's true!
2. 7" screen size
According to Hatmaker, the 7-inch screen means it's lighter and more portable and it keeps the price down. Wait, price was #1. Hey, no double dipping!
Yes, we're now to the point where a smaller screen is supposedly better somehow. Oookay.
4. Unlimited cloud storage
And you're never away from Wi-Fi, right?
5. Nonstop streaming
YOU'RE NEVER AWAY FROM WI-FI, RIGHT?!
That's it. No explanation of how the iPad has more apps and a smoother operating system and more storage and cameras or anything. Just 4.5 things that supposedly make the Kindle Fire better than the iPad.
Ha, on the other hand, has a bit of a different take.
Like most convergence devices before it, the Kindle Fire doesn't do anything exceptionally well (except for buying things via Amazon) but the price is right at $200. Buyer beware.
Ugh, OK, see this is the Macalope's problem with the Kindle Fire, a device he was pretty excited about and almost pre-ordered for Mrs. Macalope. He's been harping on this for the last few days, annoying anyone who will listen. The nymphs have absolutely had it and the dryads aren't even talking to the Macalope anymore. The fauns, of course, only want to talk fantasy football time of year.
But the Macalope doesn't get why someone would buy a cheaper device that does everything a more expensive device does, just crappier. And this seems to be the Kindle Fire's "value add"—"It's not very good! But it's cheap!"
Apple would, of course, never ship a device like the Kindle Fire. When Apple makes a device cheaper, it removes functionality and makes sure what remains still performs with reasonable speed and a good user experience. Amazon seems to have nailed this with the E Ink Kindles, but the Fire is saddled with the same problems its Android-based cousins have.
Again, the Macalope has no doubt that Amazon will sell a bunch, but he's less sure they're going to make people happy, particularly anyone who bought one based on Hatmaker's piece.
[Editors' Note: In addition to being a mythical beast, the Macalope is not an employee of Macworld. As a result, the Macalope is always free to criticize any media organization. Even ours.]