The App Store is home to a number of worthwhile side-scrolling games, and the clever Mighty Fin clearly belongs in the top tier of that category. The iPhone and iPad game from Launching Pad Games blends stylish graphics, lively gameplay, and plenty of challenges that are sure to hook casual gamers.
As with most side-scrolling games, you're trying to get from Point A to Point B, avoiding any obstacles along the way. In the case of Mighty Fin, you're a fish bobbing along assorted aquatic settings and capturing valuable bubbles along the way. The obstacles you're trying to avoid include everything from jagged reefs to hungry penguins to sharks that seem far less lovable than the ones you'll find in Finding Nemo. You can steer Fin away from danger by tapping down on your device's screen—holding down a finger causes him to dive, while releasing your hold makes the fish swim toward the surface. The controls are relatively simple, though it takes some practice to fully harness the size of Fin's dives and jumps.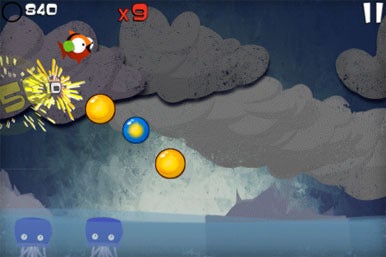 Mighty Fin really shines with its multitude of levels. The game debuted with eight tropical, arctic, and stormy settings; a recent update added eight more scenes that appear to be set at a down-at-heels theme park. The music is tailored to each setting, and extra special attention has been paid to the sound effects, from the splash of Fin leaping out of the water to the flopping noise when he meets his unfortunate demise. Mighty Fin's graphics are also noteworthy, particularly the title screens that evoke tacky postcards.
Side-scrolling games can get a little repetitive—there are only so many obstacles you can throw in someone's way, after all. So Mighty Fin varies things up by unlocking new game modes—Survival and Endless Zen—whenever you complete a level. You also collect costumes along the way—some bunny ears here, a sombrero there—which you can then use to dress up your fish. The costumes don't seem to infuse Fin with any special abilities, but the feature should appeal to younger players.
If there's a flaw to Mighty Fin that keeps it from reaching the heights of top-notch side-scrollers like Tiny Wings and Jetpack Joyride, it's that Launching Pad Games was a little too successful in recreating the density of liquid. Fin bobs up and down as the action scrolls by, and it's up to you to keep his movements under control with the aforementioned taps. It can be a little challenging to keep your fish on the straight and narrow, which becomes problematic in later levels that demand more precise control than you might be able to muster. Even casual games should have some degree of difficulty, but some players could well find that Mighty Fin lands too far on the frustrating side of the spectrum.
Still, Mighty Fin gets far more things right than it gets wrong. Graphics, sound, and gameplay all add up to a delightful iOS app. The App Store may be an increasingly growing pond, but this is one fish that more than pulls its own weight.
[There's nothing fishy about Macworld.com editor Philip Michaels.]