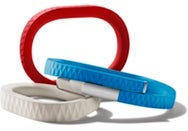 Early in November, Jawbone released the Up, a wristband that counts your footsteps (like a pedometer), tracks your sleep habits, and syncs with an iPhone app to graph and share that data. Unfortunately, a small number of early adopters are now Up in arms, since their Ups appear to have given Up the ghost. Jawbone has acknowledged the issue.
Macworld contributor Michael Gartenberg's experience with his Up typifies the problems afflicted owners are experiencing. Early Wednesday, he tweeted:
The night his Up gave Up, Gartenberg noted that it showed about 37 percent of its battery life remaining before it croaked. He was able to exchange his defective unit at the Apple Store where he purchased it without difficulty.
A Jawbone spokesperson confirmed to Macworld via email that "we are hearing about a limited number of users who are experiencing issues." The spokesperson pointed us to a forum post on the company's support site from Raul Corella, Jawbone's vice president of customer support. Writes Corella: "Rest assured we will take care of all of our customers… As with any new product in a new category, issues may arise during the introductory phase." He concludes, "We stand behind our products unequivocally, are working diligently to resolve any issues, and will promptly replace any defective bands."
Customers whose Ups are no longer on the Up and Up are urged to write to upsupport@jawbone.com or call 1-800-JAWBONE.