Earlier this year, Days of Wonder ported its classic train game, Ticket to Ride, to the iPad— with impressive results. Now the company has made the jump to the iPhone and iPod touch with Ticket to Ride Pocket, a slimmed-down version of the game that still has plenty to offer.
Like its iPad and real-world counterparts, Ticket to Ride Pocket puts you in the wingtips of a 19th-century railroad baron, competing against up to four others (either computer or human players) to build routes across the United States.
And, in the iPhone and iPod touch version, only the United States. While the iPad edition has several additional maps available via in-app purchase, including Europe and Switzerland (as well as variants on the U.S. game), none of these add-ons are available in Ticket to Ride Pocket. Days of Wonder says this is because those maps include additional details and gameplay mechanics that don't fare as well on a smaller screen; while the iPhone and iPod touch are certainly more strapped for screen real estate than the iPad, I hope the company finds a way to incorporate these options, since they expand the game's replayability.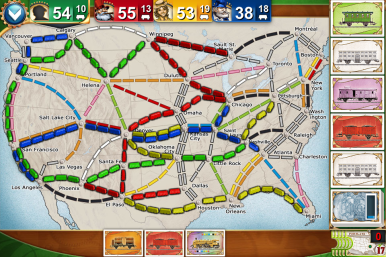 The other major missing feature is Internet play. Unlike on the iPad, you won't be able to challenge friends or strangers via Game Center or Days of Wonder's own online service. The company believes that interruptions like phone calls, notifications, and loss of network connections would make the game frustrating. But a Days of Wonder spokesperson told me that the company would listen to feedback from its players, so such functionality could be incorporated in a future release.
But while the developer taketh away, it also giveth: Ticket to Ride Pocket includes one feature lacking from the original iPad version—local play via Wi-Fi or Bluetooth. So, should your friends be foolish enough to challenge you, you can face off in person. The company has also updated the iPad version to bring support for local network play as well; iPad players can take on users of Ticket to Ride Pocket; however, as noted above, they'll be limited to the U.S. map.
All of the bells and whistles aside, how does Ticket to Ride Pocket stack up? Very well. Days of Wonders's iOS adaptations have been lavished with care, and this is no exception: It features the same style, art, and gameplay as its iPad counterpart, with adjustments made where necessary for the smaller screen. Some information is a little unwieldy, though: For example, the game puts your route cards in two small piles—completed and in progress—in the lower right-hand corner of the screen, and toggling between the two piles as well as among the cards within each pile can be finicky.
Information about players is still displayed at the top of the screen: Some of it is always available—current score, number of train cars left—but other data—such as number of ticket cards or route cards in hand—is hidden unless you tap on the player, or it's that player's turn. It's an economical use of space, and one that doesn't adversely affect play.
You can still pinch-and-zoom and pan around the map, but now when you drag cards over the map and hold them there for a moment, the view automatically zooms in slightly to make it easier to see.
Since Solo play is one of the focuses of the Pocket edition, Days of Wonder has added 20 different achievements you can unlock as you progress, for things like playing a certain number of games, earning a certain number of points in a game, completing a certain number of routes, and more. There are some other improvements over the iPad version, such as the Settings screen, which foregoes the sometimes inscrutable train station metaphor for a more straightforward approach.
Another place the game has slimmed down? The price. Instead of the $7 tag associated with the iPad version, Ticket to Ride Pocket costs just $1. It's a more than reasonable fare for a pleasant, comfortable journey.
[Senior associate editor Dan Moren is first class, all the way.]