Considering how many photos are captured daily with iPhones all over the world, Apple's Photo Stream (the imaging component of its iCloud offering) is a useful tool for getting pictures off our mobile devices and on to our computers and tablets. The challenge with Photo Stream is that it's an all-or-nothing proposition. Either it's on and sharing every shot you take, or it's off and not helping you at all.
But there is a way to control this flow on your Mac. By using iPhoto as the dam, and Aperture as the final destination, you can enjoy the benefits of Photo Stream without drowning in a deluge of snapshots.
iPhoto does a great job of helping you manage your Photo Stream.

Photo Stream basics
You can enable Photo Stream on your iPhone after you sign up for iCloud. The images are available on iOS devices that use the same iCloud account, as well as your Macs. The destination for the images on your Mac is either iPhoto (9.2.1) or Aperture (3.2.1).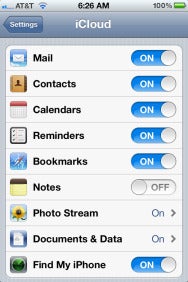 You can only have one destination per Mac for your stream of images. This becomes problematic if you're switching among Aperture libraries (since only one library can receive pictures) or if you use both iPhoto and Aperture together.
What frustrates some photographers is if you take a bunch of crazy images that you decide you don't want in your Photo Stream, your only option is to live with the entire mess or delete the stream and start over. So both baby and bath water are thrown out.
To reset your Photo Stream, sign in to iCloud.com and click on your name on the iCloud home page. Click Advanced to reveal the Reset Photo Stream button. Once the images are removed, they're gone from the stream.
Chances are you'll still have the offending images on your iPad or computer. To remove them from the iOS device, go to Settings -> iCloud ->Photo Stream and turn it to Off. When you turn it back on, you should have a clean slate. On your Mac, turn off Photo Stream in iPhoto's or Aperture's preferences. Even though you may have Automatic Import checked in the Preferences for Photo Stream, you may still have to kickstart the process. After your first sync, check your Events in iPhoto to see if the images from the Stream were added. If not, in Photo Stream select all the images from the current month and make an Album with them (click on the Add To button in iPhoto). iPhoto will ask if you want to import these images into the application. Say OK and create the Album. Now, moving forward, iPhoto will continue to import images from your Photo Stream without any further action from you.
So, if you don't come up with an alternative workflow on your computer, this is the Photo Stream you're stuck with.
Control the stream
You can, however, avoid this all-or-nothing scenario by setting up a reservoir for Photo Stream, then bringing only the images you want into your workflow. The easiest way to do this is to use Aperture and iPhoto together. iPhoto serves as the reservoir that receives all the images from your Photo Stream. Aperture is the water tap that's connected to iPhoto, that only lets in the images you want. This system works in reverse too, with Aperture serving as the reservoir and iPhoto the final destination. There are a few ways you can set this up. I'm going to outline a workflow that's good for Aperture users. See what you think, then adjust for your particular needs.
Set up iPhoto as your reservoir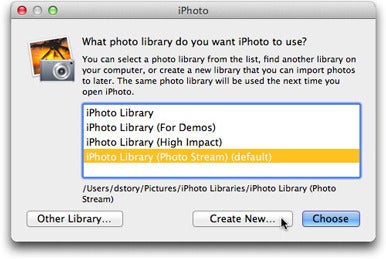 Start by creating a fresh iPhoto library. This will be your reservoir for Photo Stream. Hold down the Option key and launch iPhoto. You'll be greeting with a dialog box that lets you switch among existing libraries, or create a new one. Choose Create New.
You now have a fresh library dedicated to your Photo Stream. Open iPhoto's Preferences and click on the Photo Stream tab. Check the boxes next to Enable Photo Stream and Automatic Import. You are now ready to receive images. Don't check the box next to Automatic Upload. You don't want your iPhoto library sending out images into your Photo Stream, only receiving them.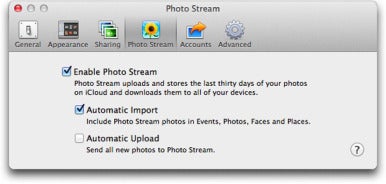 Test your set up by taking a picture with your iPhone. After a minute or two, it should appear in your iPhoto Library. iPhoto will also create Events for your Photo Stream images, such as "Nov 2011 Photo Stream." This is very important because these containers can be viewed by Aperture.
Use Aperture to integrate into your workflow
Next, launch Aperture. Go to File -> Import -> Show iPhoto Browser. You'll be presented with a dialog box that displays your iPhoto Library. Navigate to the images from your Photo Stream that you want in your working environment.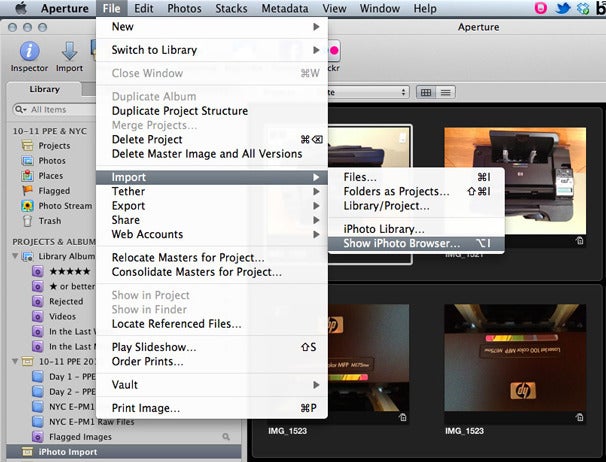 At this point, you have two options. You can just drag the image from the iPhoto Browser to the desired Project in Aperture. The problem with this method is that you actually get two images: the original iPhone shot and an iPhoto version. They are placed side by side in a Stack.
If you don't want both shots, you can work around this by right-clicking on the image in the iPhoto browser to display, "Reveal Image 0000 in Finder."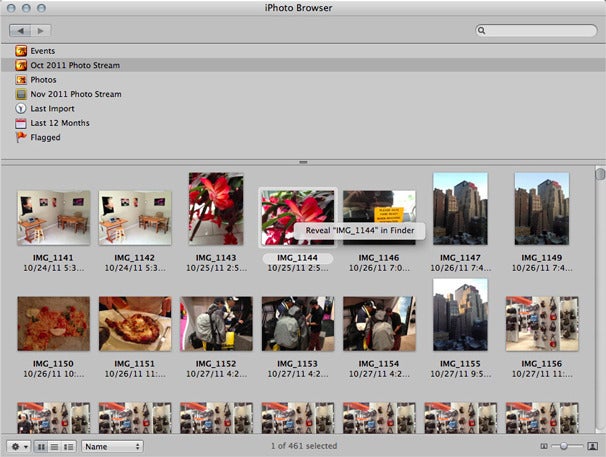 Now you can drag the original shot from the Finder directly in to the Project container in your Aperture library. The photo appears in Aperture in full resolution and ready for use. Close the iPhoto Browser after you've collected the pictures you want.
Backing up
Even though you may not want to use all of your iPhone shots, or even display them, you may want to archive them in case there's something in there that you might want for the future. That so-so shot of Uncle Bob may not thrill you now, but may become a keepsake years up the road. The easiest method is to use Time Machine, which can preserve your iPhoto library. You can also drag and drop the entire iPhoto library from your Pictures folder to an external hard drive.
If you only want to archive the images that make it in to your Aperture library, then use the Vault or your normal system of back up.
Apple TV and other iOS devices
The reservoir system works well for your Mac, but there aren't comparable built-in tools for Apple TV and iOS devices. So, for the time being, you'll have to live with the all-or-nothing system for that hardware, unless you hack a workaround.
Once many photographers upgrade to Aperture, they understandably don't spend much time with iPhoto. This reservoir system for Photo Stream brings iPhoto right back in to the photography workflow.