It hasn't been a great year for iWeb users. Apple's lone Web design app wasn't updated with the release of iLife '11, and future versions—much less a successor—are in doubt. Even if iWeb's prospects are as bad as they seem, there's more to creating websites on the Mac than just one program. Whether you're looking for an easy-to-use iWeb replacement or a more sophisticated program with more powerful features for you and your site's visitors, a host of applications is available for every skill level and budget. Here are some of the highlights and how current iWeb users could find them useful.
The iWeb problem
While iWeb may be unavailable on the Mac App Store, it's still currently sold in boxed editions of the iLife '11 suite. This summer, the app was updated to version 3.0.4, and will presumably keep working even after Apple ends MobileMe Web hosting on June 30, 2012. After that date, many iWeb users will have to find new hosts for their sites, but iWeb will still export to FTP and Finder folders.
However, many iWeb features, like password protection, blog and photo comments, and blog searches won't work without MobileMe hosting. While iCloud provides convenient data and photo syncing, it's not a Web host. It's possible that Apple could bring some MobileMe features to iCloud, but which features, and when they would be added, is an open question. Whether you're thinking about replacing iWeb now, or are forced to do so later, finding an application that's right for you depends on your needs.
Professional and prosumer options
If you're ready to take your skills and sites to the next level, professional Web design software can help. These applications offer sophisticated WYSIWYG features, rich code editing tools, or both, and are aimed at building and maintaining complex sites. Dreamweaver CS5.5 ($400) is the choice of many Web design pros for designing cutting-edge sites using HTML, CSS, JavaScript, or PHP. It's suited to building and maintaining complex database-driven sites, but its rich graphical tools (and integration with other Adobe software like Photoshop) let you unleash your inner artist, too. Flux (£70, or roughly $112), sometimes referred to as MacFlux, is an HTML 5 and CSS design app for new and experienced designers who don't mind guidance like page templates and libraries of HTML, JavaScript, and CSS widgets. Flux can also create Ruby on Rails, Concrete5, or ePub projects, as well as WordPress themes. Freeway Pro ($229) is a strictly WYSIWYG designer that's user-friendly enough to include templates to get your site started. But it doesn't skimp on advanced features like support for PSD, TIFF, and EPS files as well as CSS layouts and full CSS text styling.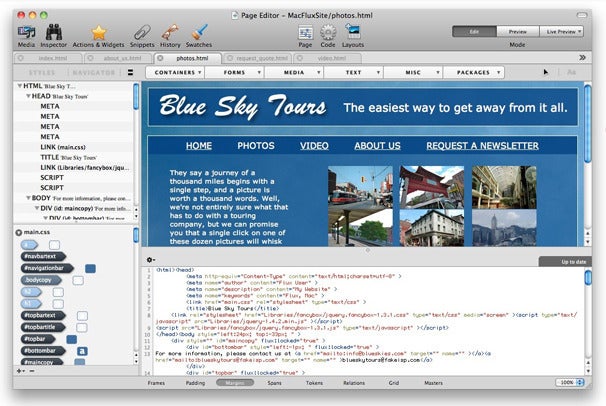 Template-based consumer apps
For a more iWeb-like experience that lets you build sites with themed templates you can customize with your content, you have several options. These programs offer a wider variety of templates, widgets, and social media features than iWeb '09 while still remaining easy to use. RapidWeaver ($80) offers more than 40 themes and templates for your site that you can edit in an uncluttered interface. The features and behavior of your site can be extensively customized with Flash photo slideshows, custom favicons, WebClip icons, meta tags, and more. Sandvox ($80) offers over 50 themes and templates and easy access to both your iLife media and browser bookmarks. Its widget-like objects can easily add Facebook "Like" buttons, your Twitter, Skype, or IM status, and other social interactivity to your site—even a contact form and Facebook, IntenseDebate, or Disqus comment systems. Freeway Express ($69) is a streamlined version of Freeway Pro that retains many of its sibling's powerful features, like templates, CSS navigation bars, and master pages that let you easily add menus, media, and more across pages when designing a site from scratch. A $50 version, called Freeway Express AS, is available on the Mac App Store.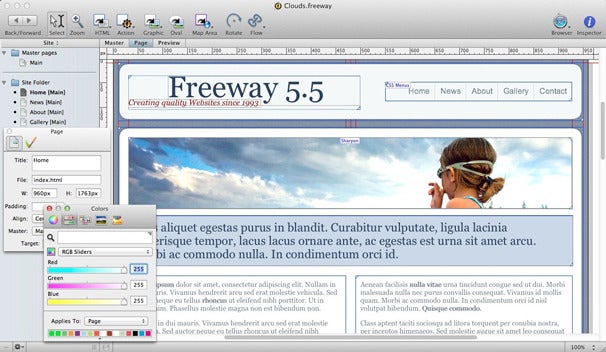 Freehand consumer programs
Sometimes, even the best-looking templates aren't enough. If you'd prefer to create pages on a blank canvas, but still want user-friendly design features, there are apps for that, too. Muse (free until early 2012; $180 annual or $15 monthly subscription thereafter) is an Adobe application that works like a simplified mix of InDesign and Photoshop. Users of either application will be at home with its floating palette of tools and quick access to Web-safe colors, fonts, and text-styling options. Its widgets can easily add navigation bars, slideshows, and other interactive features to your site; and these can be extensively customized along with objects you create yourself. Hype ($30) lets you create HTML5 animations, but it can also be used to create an entire site. Animating objects is as easy as giving them different states (such as position or color) on a timeline. The "in-between" frames are created for you, and a recording feature that tracks changes simplifies the process even further. Animations, page transitions, and even JavaScript actions can be triggered when visitors mouse over content, or at other points you define.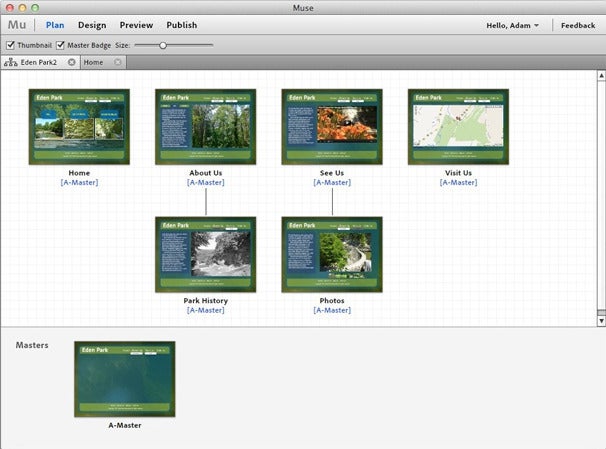 Free applications and Web-based services
Each application above is available to try before you buy, but some Web design software comes with no price tag at all. These free cross-platform programs may lack the look and feel of modern Mac apps—and conveniences like iLife media integration—but with them you can create and upload Web pages using a combination of WYSIWYG and code-based tools without breaking your budget. KompoZer, Amaya, and BlueGriffon are three options that are worth a look.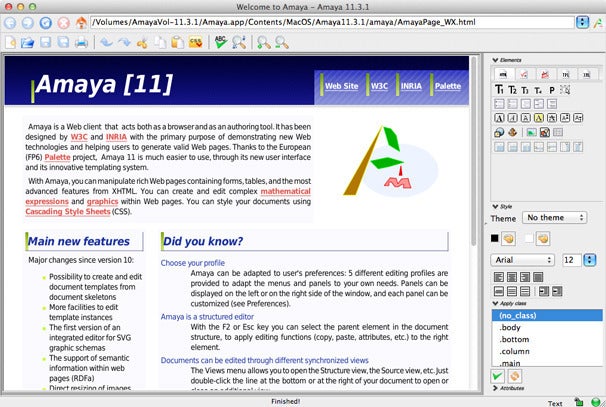 If your budget is zero, you may not even need a dedicated design application, thanks to social media sites. Odds are you're already using Flickr for photos, YouTube for videos, or Blogger or WordPress to share your writing (and more) with the world. The ubiquity and ease of use of these services can't be denied. But even if you're comfortable with some or all of them, packaging that content in a single site of your own design can be a great way to present yourself online.
No matter what the future holds for iWeb, or what your needs are, the Mac Web design scene offers plenty of alternatives. With so many choices, you're bound to find a new tool that's right for you—and probably some new skills along the way.
[Adam Berenstain is a freelance writer in upstate New York and a frequent contributor to Macworld.]