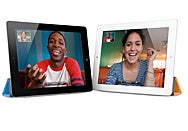 By mid-2012, Apple will overtake Hewlett-Packard as the world's biggest PC vendor, thanks largely to iPad sales, analyst firm Canalys said Monday.
The iPad, with more than 60 percent of the tablet market, has radically changed the dynamics of the PC industry in the past year, propelling Apple into second place in the global PC market in the third quarter, according to a statement from Canalys.
Apple had a 15 percent share of the the PC market in the third quarter, while HP had a narrow lead with a 16 percent share, Canalys reported earlier in November.
Apple saw its PC market share expand from 9 percent to 15 percent in the past year, Canalyst analyst Tim Coulling noted. HP and Apple will fight for the top spot in the fourth quarter, but he said Apple "may have to wait for the release of the iPad 3 [in the first half of 2012] before it passes HP."
Total tablet shipments will reach 59 million by the end of 2011, with 22 million shipments in the fourth quarter alone, Canalys said. In the U.S., low-price competitors Kindle Fire and Nook Tablet will put pressure on iPad sales, however.
Canalys estimates that global PC shipments for all of 2011 will reach 415 million, up by 15 percent over 2010, mainly due to tablet sales. Of that 415 million, 59 million (about 11 percent) will come from tablet computers, according to Canalys.
Note: When you purchase something after clicking links in our articles, we may earn a small commission. Read our affiliate link policy for more details.