If you're in a giving mood, there's no better place to shop for the Apple-device-users on your list than the iTunes Store.
Generic credit
The simplest thing you can do is just send someone credit that can be used for any desired music, apps, books, movies, or anything Apple sells from its digital stores. Begin by visiting the Buy iTunes Gifts page on the iTunes Store. There you can email a gift certificate to anyone with an email address in amounts from $10 to $50 (in $10 increments). Note that the credit much be used in the same country's store from which it was purchased (so no buying from the U.S. for your aunt in Toronto), and the recipient will need to have or create an Apple ID to redeem the gift credit.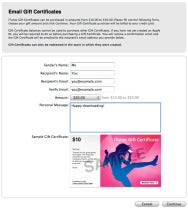 If you prefer to hand over something more tangible, you can instead purchase a printable gift certificate (in the same amounts) that you can print out and stuff inside a card.
You can also opt for a physical iTunes Gift Card, which you can purchase from Apple's website or from just about any market or electronics store you're likely to stumble across.
One final option is to set up an allowance, a gift that keeps on giving (until you cancel it by visiting your Account Information page on the iTunes Store). Available in the same $10 to $50 amounts, allowances are a monthly gift to your lucky recipient. You can even create an Apple ID for the person if he or she doesn't already have one.
Giving specific items
If you want to give someone a special movie that you love or an album you heard them talking about, Apple offers the ability to give specific music, apps, TV shows, movies, and audiobooks,
Visit the page for an album, for example, and click the arrow next to the Buy Album button. There, you'll get a pop-up menu with a Gift This Album option. Select it and you're taken to a Give A Gift page when you can enter the emails of all the people you want to send that album to, or choose to print the gift card for a specific person instead.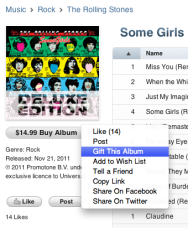 You'll find similar options for purchasing others types of media: songs (Gift This Song), movies (Gift This Movie), TV show seasons (Gift This TV Season), TV show episodes (Gift This TV Episode), audiobooks (Gift This Book), apps (Gift This App), and so on.
Unfortunately, there's no way to send someone a specific ebook from the iBookstore, even though you can purchase books from within iTunes for your own account. You can, however, buy an iTunes Gift Certificate, as described earlier, and email or print it out, which a person can then redeem for iTunes Store credit and use to purchase ebooks or anything else in the iTunes Store, App Store, or iBookstore.
Note that in the past, you could create a playlist and drag items to it from your library or even from the iTunes Store, and then give that playlist of songs, TV shows, movies, and/or audiobooks to someone as a gift. Although Apple still offers instructions on how to do so, that capability no longer exists. One hint that Apple hasn't updated that page in a long time comes from the screenshots found there. One shows blue playlists and purple smart playlists—Apple drained all color from the sidebar icons in iTunes 10, released more than a year ago—and another shows a Create iMix button, a feature that's also gone the way of the dinosaur.