There's a silly premise behind Where's My Water—a clean-freak alligator needs water for the showers he enjoys taking—but the iPhone-iPad physics puzzle game from Disney really encourages young players to use their reasoning skills.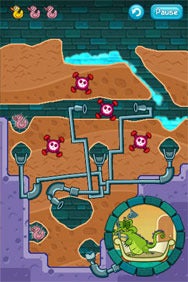 The game asks you to help out Swampy, an alligator living well below a city's surface. You've got to direct water from street level storm drains to his shower below the ground. At the start of each level, you should see a pool of water sitting dormant somewhere on your screen. Elsewhere on your screen, there's a pipe that leads into Swampy's showerhead. Standing between the water and the pipe is a large amount of dirt cluttered with objects. Your mission: Take your finger and dig a path through the dirt to guide the water to the pipe while avoiding sewer dead ends like miscellaneous pipes, acid waste, or tiny explosives that randomly litter the dirt. If you guide the water into one of these dead ends, it's game over.
The graphics are cartoony, which will likely appeal to a younger audience. That said, I found the dark purple, orangish brown and dark blue color scheme to be a little visually dull for my tastes.
Not all of the game's levels take a significant amount of time to complete—some only take a few seconds—but in each one, you've got to strategize your way through the level in a unique way. Not every level is challenging, at least not for older gamers, but Where's My Water certainly requires a little bit of thought.
[Sam Felsing is a former Macworld intern. He's currently city editor of the Alameda Sun and a freelancer for various San Francisco Bay Area publications.]