With the release of iTunes Match and Google Music becoming available to all, music lovers are starting to move from "Do I want to put my music in the cloud?" to "Of course I do. Which service should I use?" Currently there are three major services in contention for your music—in addition to iTunes Match and Google Music, there's also Amazon Cloud Player. Here's how they compare.
Store tie-ins: Each service is linked to a store—iTunes Match with Apple's iTunes Store, Google Music with Android Market, and Amazon Cloud Player with Amazon MP3. Each service sells DRM-free tracks priced between 69 cents and $1.29—iTunes provides 256-kbps AAC tracks, Android Market offers 320-kbps MP3 tracks, and Amazon MP3 sells 256-kbps MP3 files.
Price and storage: iTunes Match is a $25-per-year service. For that $25 you can have access to up to 25,000 tracks not purchased from the iTunes Store. You can store an unlimited number of tracks you've purchased from the iTunes Store, which don't count against the 25,000 track limit.
Google Music is free and allows you to access up to 20,000 tracks. You can additionally purchase tracks from the Android Market. Similar to iTunes Match, these purchased tracks are not counted against your 20,000 track limit.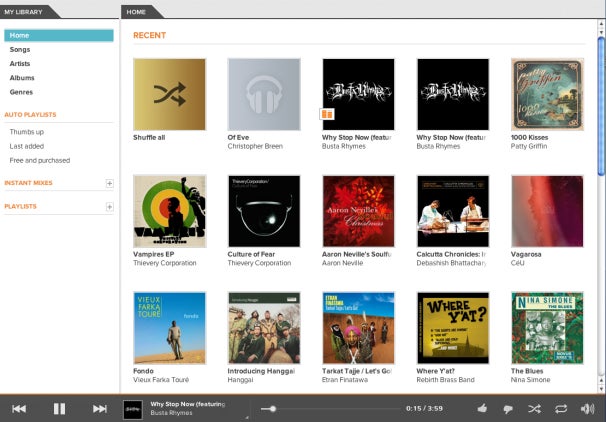 Amazon Cloud Player provides 5GB of storage for free. Any tracks you purchase from Amazon MP3 are not counted against this limit. However, if you purchase any Cloud Drive storage plan (starting at $20 a year for 20GB of storage), you can store an unlimited number of MP3 and AAC files. Amazon tells us that this is a limited-time offer.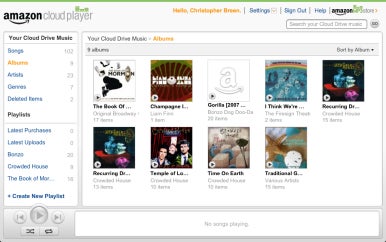 Match versus upload: One of the most significant differences between iTunes Match and the Google and Amazon services is matching. When you sign up for iTunes Match, iTunes will send Apple's servers a list of the music in your iTunes library. Any of the music in that library that's available in the iTunes Store will be made available to you as 256-kbps AAC files—there's no need to upload these matched tracks.
Conversely, regardless of whether Android Market or Amazon MP3 have copies of your tracks for sale, you must still upload them to the companies' servers before you can access them. This isn't entirely desirable if you have a slow Internet connection or a stern bandwidth cap.
File conversion: Both Google Music and Amazon Cloud Player give what they get. If you upload a 128-kbps copy of The Beatles "Love Me Do," that's exactly what you'll get back. With iTunes Match, if a track from your library has been matched with a track available from the iTunes Store, it will come back to you as a 256-kbps AAC file. In cases where your copy is of lesser quality, you win. However, if your copy is uncompressed or in the Apple Lossless format, the version you receive from iTunes Match will be that same 256-kbps AAC format.
Access: Content stored via iTunes Match can be accessed within iTunes on both a Mac and Windows PC as well as from any iOS device (including the Apple TV 2). You can additionally download copies of your iTunes Match content to your computers and iOS devices (though not to the Apple TV—it can only stream this content). You can use iTunes Match with up to 10 devices authorized with your Apple ID.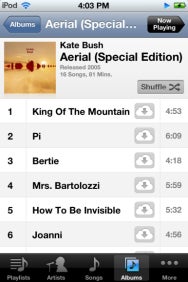 To play Google Music and Cloud Player content on your computer, you must use a web browser. Each service presents an interface similar to iTunes where you can view your music by song, artist, album, and genre. Play controls can be found within these windows. Google Music doesn't provide a way through a web browser to download tracks. Google's Music Manager application can download tracks you've purchased from the Android Market, but it's an all-or-nothing process. You also use this application to upload music to Google Music. Each of these services allows you to use up to eight devices (computers and Android devices).
Within your web browser, Amazon Cloud Player does let you download tracks you've previously uploaded. You select those tracks within the web browser interface and choose Download. When you do, the Amazon MP3 Download application you've installed launches and downloads the tracks.
There are a couple of iPhone apps that allow you to access Google Music tracks—IIS's $2 gMusic and Sokolware's $1 GoMusic for Google Music. gMusic lets you stream your music to your iOS device. GoMusic allows you to stream as well as download it to your device. GoMusic's downloaded tracks are available within that app but are not made available to the Music app.
At one time, there was an app for accessing Amazon Cloud Player music but it was pulled from the App Store at Amazon's request. You can, however play your Cloud Player tracks within Safari on the iOS device but you can't download them to your iOS device.
Online Music Services
| | iTunes Match | Google Music | Amazon Cloud Player |
| --- | --- | --- | --- |
| Cost | $25/yr | Free | Free/Paid |
| Storage | 25,000 tracks (iTunes Store tracks don't count) | 20,00 tracks (Android Market tracks don't count) | 5GB (Amazon MP3 tracks don't count); unlimited song storage with paid plan (starts at $20/yr) |
| Access | iTunes, iOS | Web browser, Android, iOS via third-party app and Mobile Safari | Web browser, Android, iOS via Mobile Safari |
| Number of Devices | 10 | 8 | 8 |
| Formats | AAC, MP3, AIFF, WAV, Apple Lossless (AIFF, WAV, and Lossless files converted to 256-kbps AAC) | MP3, AAC, WMA, and FLAC | MP3, AAC |
| Store purchase format | AAC 256 kbps | MP3 320 kbps | MP3 256 kbps |
| Track matching | Yes | No | No |
| Upload client | iTunes | Music Manager | Web browser |
Shaking it out
Which service you choose depends on the devices you own, your bandwidth, and your budget. Considering you're viewing this at Macworld.com, you likely have a Mac and one or more iOS devices. If you can afford $25 a year, iTunes Match is mighty tempting because of its ability to match tracks already in your iTunes library and the ease of access you have to your music via your devices.
If you routinely shop for music at Amazon MP3, have lots of music (and can afford the $20 a year for unlimited music storage) and bandwidth to burn, and don't mind accessing your music through a web browser or Android device, Amazon Cloud Player may be a good fit for you. And if you'd like to purchase slightly higher quality digital downloads and like the idea of fairly expansive free storage, there's always Google Music.
[Christopher Breen is a senior editor for Macworld.com.]