Number Guru is an app that does what its developer, BeenVerified, says it can do: look up phone numbers that you enter and tell you, at least some of the time, who's doing the calling. It's the kind of reverse-lookup you can do on a multitude of Web sites, but with a few advantages.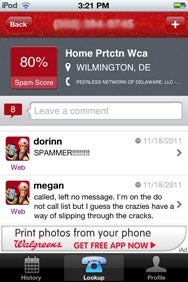 Number Guru's first advantage is that the app is simple, presenting a large keypad in a traditional layout with which you can enter a number, and it includes a backspace key to fix numbers incorrectly. The second advantage is that like some—but not all—of the Web sites that perform this service, Number Guru includes comments from others who have entered the same number, such as "Keeps calling my 11 year old's cell phone at least 12x day." That info can provide useful information on not only who is calling but how to block or prevent calls.
The developer says it covers "about 100 percent of landlines and 50 percent of cell phones" in addition to all telemarketers. (In the app's help section, it says that about 90 percent of landlines are covered). Some of the numbers I entered were personal business or work numbers, and in these cases only the business (or organization) could be identified; in other cases, I found the developer's claim to hold up after testing dozens of known numbers.
The app enables you to keep a history of the numbers you've looked up, and also allows you to add "top spammers" to your contacts database. The app provides an icon at the bottom labeled "Profile," and when you tap on it, a message appears promising a future version of the app will be able to specify how you are identified by Number Guru.
[Jeff Merron is a freelance writer and editor living in North Carolina.]