A visit to your local Apple Store during the holiday season can be maddening. The stores are overrun with other shoppers, there's a mob around each gadget table, and waiting for your turn to be helped by an Apple Store employee takes eons. The walk-in line to purchase an iPhone 5 alone can take upwards of an hour, depending on how many people are in front of you. While we generally like the Apple Store's "no register" system, it can be a real headache during busy periods.
This year, there are a few ways to avoid waiting in a long line. It just takes a little planning ahead.
Check yourself out
Bring your iOS device to the Apple Store, because the Apple Store app is a handy guide for holiday shopping. The app shows you where the nearest Apple Store is, lets you search for product availability at specific stores, and allows you to purchase items yourself.
The Apple Store app also has a feature called Express Checkout that lets you directly purchase items from the online Apple Store by quickly entering your Apple ID and password. Designate whether you'd like to pick the item up in a store or have it shipped. The app bills the card on file that's linked to your Apple ID and will ship to the address on file as well; you can adjust these settings by selecting Edit in the app itself at checkout.
If you're just purchasing accessories or other small gifts, there's no need to wait for assistance at the store. The Apple Store app has a feature called EasyPay, which is essentially a self-checkout system. Customers scan items with the iPhone's camera and pay using the credit card associated with their Apple ID. While EasyPay is limited to accessories and non-Apple products—you can't use it to buy an iPhone, MacBook, or any other piece of Apple hardware—it can certainly eliminate your wait time, since you don't need a "blue shirt" to help you out.
Before using EasyPay, make sure you enable the app's push notifications and location settings. EasyPay will work only within an Apple Store, so if your location settings are disabled, the app won't recognize that you're in a store and won't grant access to the EasyPay feature.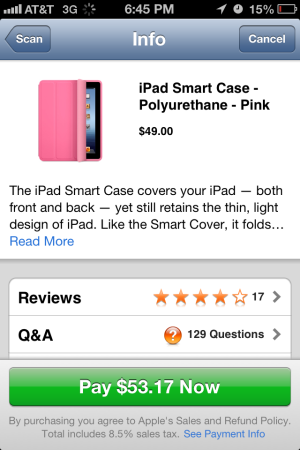 Once the Apple Store home screen pops up within the app, tap EasyPay. (This home screen also lets you make a Genius Bar appointment, ping an employee for additional checkout help, and sign up for in-store workshops.) Next, scan the barcode using your iPhone's camera. Once the item is recognized, a product page displays more information about the item scanned. Tap Pay Now at the bottom of the screen and enter your Apple ID and password. The item will be charged to the credit card associated with your Apple ID and iTunes account, so make sure you have that card with you—before you can complete the purchase, you must enter the card's security code. The app emails you a copy of your receipt and stores another copy within a section of the app.
The EasyPay feature does have a few kinks to work out. It allows only one item to be checked out a time, which might actually slow your shopping down if you have several items on your holiday list. Be prepared to enter your Apple ID and password multiple times and to have a bevy of receipts sitting in your inbox. You'll also have to flag an employee down if you need a shopping bag or a gift receipt, which could also slow you down. Additionally, EasyPay works only on the iPhone 4/4S and the iPhone 5, and requires iOS 4.2 or higher.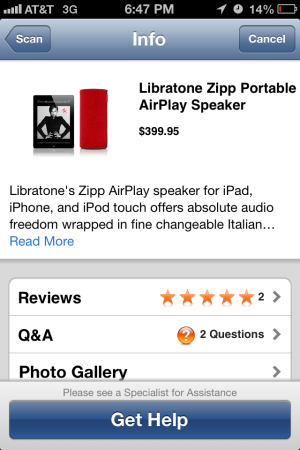 Another limitation restricts what you can actually purchase with this app. When I scanned a $99 Apple TV unit, for example, the app prompted me to get an employee for checkout help. When I called over an Apple Store associate, she explained that Apple TVs and Time Capsules require additional checkout assistance because of their Apple serial numbers. However, I was able to scan a Magic Trackpad, a Smart Cover, and a Lightning adapter, and they registered as items available through EasyPay. It does seem as though price is a factor as well. When I scanned the $400 Libratone Zipp AirPlay speaker system, EasyPay prompted me to find an employee to complete the transaction. Look for the EasyPay tag on store shelves—those products are the ones that are available for purchase through the app.
Returning items is a breeze; just show an Apple employee a copy of your emailed receipt or the one directly from the app. You'll need to have your credit card with you when making a return, and make sure you're within Apple's return-policy deadlines.
When leaving the store, you may be asked to present a copy of your receipt, although I didn't experience that at any of the three stores where I tested the app. However, make sure your transaction actually finalizes before you toss the item in your bag—you could run into some unwarranted trouble.
If all you need is accessories, software, and stocking stuffers, EasyPay could drastically cut your wait time within the store.
Order online, pick up at the store
If you know exactly what you want to purchase, you can reserve items online or through the Apple Store app for in-store pickup. Just check the Pick Up option during checkout when shopping online. Before you add an item to your cart, check the product's availability at whichever store you'd like to schedule the pick-up. Usually, if it's a device in a stock configuration, it will be available for pick-up the same day it's ordered. If a store has it in stock, it will be ready in as little as an hour. You can either pay online and pick it up in the store or reserve an item and pay in the store upon pick-up.
Because the iPhone 5 and the iPad mini have become this season's hot commodities, reserving one of these items follows a different procedure. You can reserve either the iPhone 5 or iPad mini between 10:00 p.m. and 4:00 a.m for in-store pickup the next day; otherwise, you'll have to wait in line for a walk-in purchase, or waiti two weeks for your scheduled home delivery. The Pick Up option will also vary from store to store.
Depending on the item, it might be faster to have it shipped directly to your home then to pick it up from a store—especially if it's a customized iMac or MacBook that differs from the stock configurations. When I played around with pick-up options, a customized MacBook would take more than a week to ship to a store verses two to four business days to have it shipped directly to my home. Many Apple Stores carry "ultimate"configurations of Macs in addition to the standard configurations. These ultimate models usually have some build-to-order options for the fastest processor, maximum RAM, and largest storage capacity. They cost much more than the standard configurations, but they may be in stock. Unfortunately, the latest iMac models aren't yet available for purchase (as of this article's publication).
The Personal Pickup and Reserve feature is extremely convenient if you live in an apartment or a building that cannot receive packages without a signature—or, if you're big on planning ahead.
Express Shopping
To keep things slightly less chaotic during the busiest shopping time of the year, most Apple stores have an Express Shopping station set up. These long counters are manned by a handful of Apple Store employees and function much like a traditional register system. Stock-configurations of the MacBook Pro, MacBook Air, iPhone, iPad, and various iPod models are kept behind the counter, so customers won't have to wait for an Apple employee to run to the back to grab their desired item.
While you still might have to wait for a spot at the station, the time it takes to make a purchase will be much shorter. This option works only if you're purchasing any of the items just mentioned above.
No matter which option you go with, the fastest way to complete your purchase at the Apple Store is to know what you're buying beforehand. Do your research, figure out what size and configuration best suits your needs, and try out the in-store test models at an earlier date.