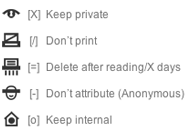 A team of privacy researchers and product designers from Europe and the U.S. have released a browser-based implementation of Privicons, a project that aims to provide users with a simple method of expressing their expectations of privacy when sending email.
Privicons is a set of icons accompanied by short descriptions that can be appended to email in order to instruct recipients about how to handle a message or its content.
There are a total of six icons, each with a special significance, that can be represented as graphics or ASCII art. This makes them suitable for email in both HTML and text-only formats.
The instructions accompanying the icons are: don't attribute (anonymous), keep private, keep internal, don't print, please share, and delete after reading or a specified number of days.
The use of such icons in email communication was first proposed in November 2010, but it took one year for the project to materialize.
The first implementation consists of a browser extension for Google Chrome that works with Gmail. However, its developers also plan to release a Firefox add-on to serve the same purpose in the near future.
Once the Chrome extension is installed, the option to add privicons will be available on the Gmail window for composing messages. The button is located next to the one for attaching files, but it doesn't seem to be present in the new Gmail interface that's being rolled out by Google.
The icons and corresponding instructions are added on separate lines at the beginning of the email messages, together with links to additional information. Their ASCII representation is also added to the subject line.
The Privicons project stands apart from other email privacy efforts because it relies on user choice instead of technological enforcement. The people who support the project strongly believe that, given the chance, most users will respect the instructions expressed through these icons because they are similar to other social norms.
In fact, user choice is so important for the project, that developers who create email user agents are instructed in an Internet draft submitted to the Internet Engineering Task Force (IETF) to provide the option of overruling Privicons if they choose to implement the standard.
"Privicons embraces the concept of code-based norms approach," the developers said in their proposal. "The approach is grounded in reminder over hard-coded solutions that indiscriminately restrict speech," they added.
"Email is an open system. We cannot change the way clients and protocols work, but we can create a cultural awareness of the privacy desires of the mail sender," said Marc Alier, a lecturer on history and ethics at UPC-Barcelona Tech University who is also involved in the Privicons project.
"This cultural awareness can bring an important change in behavior and could push further changes like the generalization of cryptography usage or mail clients acknowledging the privicons policies," he added.
Editor's note: Updated on 11/22/11 at 12:45 p.m. PT with quotes from Marc Alier.