The Pandora streaming-music service is incredibly popular, with over 100 million users, and for good reason: You tell Pandora about an artist you like, and the service creates a station filled with music by that artist and, based on relationships established by the Music Genome Project, music similar to that artist's music. It's like radio but with a few major advantages: You avoid the constant commercials; chances are you'll like the station much better than anything on the radio, because it's based on music you know you like; and Pandora's algorithm is so good that you end up discovering lots of new music by artists you may not have even heard of.
There are currently dozens of media players and home-media components with Pandora built-in, as well as Pandora apps available for most computing platforms, including iOS, making it possible to listen to Pandora almost anywhere. But to listen to Pandora on your Mac, you need to either keep a browser window open to the Pandora site (which, for now, uses Flash) or install the Pandora One Desktop App, which requires that you first install Adobe AIR. Pick your poison.
That is, unless you take advantage of a third-party Pandora client for Mac. The most full-featured is surely PandoraJam ($15), which lets you listen to, use AirPlay with, and even record your Pandora stations. But if you don't need all those features, check out PandaBar 1.2.1 ($5; Mac App Store link), which lets you listen to your Pandora stations using an unobtrusive menu-bar player.
Launch PandaBar and enter your Pandora account name and password, and you get a cute panda-with-headphones icon in your menu bar. Click this icon to access PandaBar's compact player window. The first time you use PandaBar, it's set to the first station, alphabetically, you've configured on the Pandora website. (In the future, launching PandaBar automatically starts playback of the last station you listened to.) Click the Play button to start listening, or click Stations to choose one of your other stations.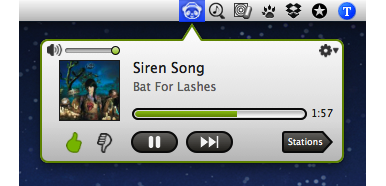 You can sort the stations list alphabetically or by creation date; if you've created new stations on the Pandora site, click the Refresh button to update the list. Unfortunately, you can't create new stations from within PandaBar—you'll still need to visit the Pandora site, or use one of the official Pandora apps, to edit your stations list.
The player window displays the album cover for the current track, the track name and artist name, and a progress bar showing the current track's progress and remaining time. You also you get Pandora's trademark thumbs-up, thumbs-down, and track-skip buttons, the first two for rating the current track (to give the service more data for customizing your stations) and the last for skipping to the next track in the station. Click the album cover to view, on the Pandora website, more info about the artist, and click the tiny speaker icon above the album cover to adjust music volume independent of your Mac's system volume.
PandaBar can optionally display Growl notifications whenever the track changes or you rate a track. And if you subscribe to Pandora One (Pandora's paid service), PandaBar can grab higher-quality audio streams.
PandaBar provides keyboard shortcuts for most actions, although it doesn't let you customize those shortcuts. (I find the default key combinations a bit awkward and difficult to remember.) You can also control PandaBar using the media-playback keys (Play/Pause and Forward) on your Apple keyboard, and PandaBar supports the Apple Remote on Macs with an infrared receiver.
While not as feature-rich as PandoraJam, PandaBar is a great little app for listening to your Pandora stations. It's simple to use, it doesn't use much memory or CPU resources, and it gets out of your way.
Updated 11/22/2011, 10:50pm, to correct error about an independent volume control for PandaBar.
Want to stay up to date with the latest Gems? Sign up for the Mac Gems newsletter for a weekly email summary of Gems reviews sent directly to your Inbox. You can also follow Mac Gems on Twitter.