Every week, our iOS accessories roundup offers more proof of the versatility of our iPhones and iPads. Love sports? Photography? Mother Earth? Good design? There's something for you here
Enandis: Something about this company's new Megaphone makes us want want to shout Ricola! We'll resist the temptation, but Enandis's line of passive-amplification devices for the iPhone and iPod touch does remind us quite a bit of the Alps. Just place your iOS device's speaker at the small end, and the ceramic horn will create big sound for music or hands-free phone conferencing. To purchase the Megaphone, you'll have to navigate the company's multilingual website—not necessarily an easy task. The basic model starts at €399.
The Joy Factory: Bicyclists and stroller-pushing parents are the target audience for The Joy Factory's $50 StormCruiser, a mount for the iPhone 4 and 4S that attaches to the handlebars of whichever wheeled contraption you're using. The mount includes an element-proof enclosure that offers protection against water, dust, and grease, while giving users access to their music, exercise apps, or GPS programs while out on the trail.
Onkyo: The veteran audio company has unveiled its $299 CS-345 CD Mini System, a compact stereo that can play CDs, tune in AM/FM radio, and host your iOS device. The CS-345 can also play video from your iPhone or iPad on a TV. The system includes a pair of two-way, bass-reflex speakers, as well as a remote control. Onkyo pitches the system as perfect for a dorm room or home office.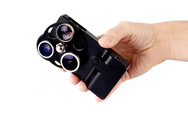 Photojojo: Designed for serious iPhone photographers, Photojojo's $250 iPhone Lens Dial is a protective can that lets iPhone users choose between three high-quality optical lenses—wide-angle, fisheye, and telephoto—that add versatility to the phone's camera. The accessory does more than just enables great photo-making, though, as the aluminum design brings a steampunkish quality to your phone. The Lens Dial sports two tripod mounts, allowing you to take photos in either portrait or landscape mode.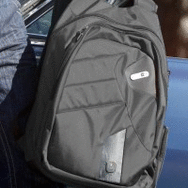 Powerbag: Charging your iPhone or iPad can be a tricky proposition when you're on the go. Powerbag offers a solution with its new line of backpacks, messenger bags, and briefcases. The bags, which range in price from $140 to $250, include a built-in battery capable of powering up to four devices—including e-readers and some laptops—at the same time while you're in transit. The developers say the battery holds enough juice to top off your iPhone twice.
Russound: Sure, winter is about to get under way, but that's no reason to keep the party inside. Russound's AirGo lets you take your music outdoors with a speaker system, designed to withstand the elements, that lets you stream your music via AirPlay from your iOS device or computer. Interestingly, the system gains AirPlay support through an AirPort Express unit (not included) you install inside a weatherproof chamber. The company has not announced pricing or shipping information.
Spatial View: The growing use of 3D video is making its way to the iPhone, as Spatial View has introduced its new 3DeeSlide system, which pairs a free app with a $35 lens that slides over the face of your iPhone 4 or 4S, letting you view 3D videos on your phone without requiring special glasses. (A $10 lens is available for use with the iPhone 3G and 3GS and the third-generation iPod touch.)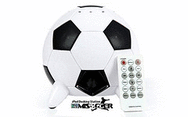 Speakal: If your goooooooooooooooooooooal in life is to bring together your love of sports and Apple devices, Speakal's $100 miSoccer docking system for the iPhone and iPod touch should be quite a kick. The soccer-ball-shaped system offers dual two-way speakers along with a dock cradle for your iOS device; the dock charges your iOS device, as well. We'd pitch you more on the technical specs of this system, but hey: It's a speaker system that looks like a soccer ball! It comes in black/white, red/white, or blue/white. But don't actually kick the miSoccer; it's not meant for use in games.
Swivl: Recent iterations of the iPhone have turned the device into a video-creation machine. The $160 Swivl helps that process along by giving your phone a mount for hands-free recording, but the device goes a step or two beyond that: Attach a special marker to yourself, and Swivl swivels on its base to follow you around the room during video recording. You can move around even as you go hands-free. Swivl lets you position your iPhone in horizontal or vertical orientation; it also can be used with any tripod-mountable pocket camera.

SunLeaf: If you're out camping—or if you're simply looking for a green way to charge your iOS device—the $179 SunLeaf Pro charging system will prove useful. This solar charger unfolds like your iPad's SmartCover and provides up to 18 watts of power during charging. (Your iPad requires only 10 watts; SunLeaf says the excess capacity should help the device charge at full speed even during sub-optimal solar conditions.) The SunLeaf Pro is also lightweight—less than 2 pounds.