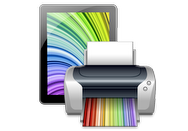 On Wednesday Ecamm Network updated its $20 Printopia utility, which extends Apple's wireless AirPrint technology to any printer on your network and allows you to virtually print files from your iOS device to your Mac or to your Dropbox folder.
The update fixes a major problem for users running iOS 5. When running previous versions of Printopia with iOS 5, screenshots taken on your iOS device would be converted to PDF files while being transferred to your computer, degrading image quality. This version, 2.1.5, now preserves PNG images—such as the screenshots you take by holding down the Home and Sleep/Wake buttons—when you send them to a virtual printer (for example, a folder on your Mac or your Dropbox folder).
I tested the update out on an iPhone 4 running iOS 5, and sent a screenshot to my Dropbox folder. It showed up immediately in its native PNG format.
Version 2.1.5 also introduces a smart file capability to ensure that your document fits within your printer's printable area, updates Send To Application virtual printers to now favor the currently running version of an app, and improves duplex support for certain printers.