Thanksgiving is here, and with it, the three Fs—food, family, and football. Food and family are a given, but even if you can't park yourself in front of a television this holiday, you can pick up the next best thing with NFL Pro 2012, Gameloft's new football simulation app for the iPhone.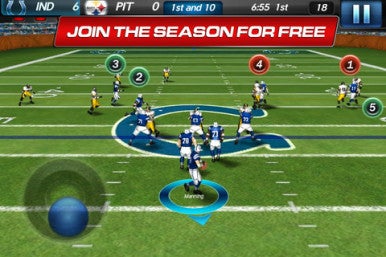 The free app puts you at the helm of any of the 32 NFL teams, where you can scream, yell, and shake your fist at any of the over 2000 virtual players, all based off real footballers.
Match up against rival teams to earn points, which go toward unlocking playbooks, stadiums, and stat boosts; choose from pre-made plays or build your own in the Playbook Editor; and if you're running into some trouble, your personal AI assistant will help you out. You can even poke your head out of the virtual game now and again using the app's built-in RSS feed for news and game scores to check on the real world antics of the NFL.
If you're ready to get on the field, NFL Pro 2012 is available for free from the App Store and requires an iPhone or iPod touch running iOS 3.1.3 or later.