At a Glance
Expert's Rating
Pros
Lots of storage space
Interchangeable connection adapters
Cons
Connection adapters tough to remove
Case prone to smudges
Our Verdict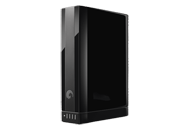 Seagate's latest hard drive, the GoFlex Desk External Drive offers a whopping 4TB of storage. It also offers connectivity adapters and decent speeds. Don't get your hands all over it, though, because it quickly gets dirty from too much handling.
Upon first glance, the newest GoFlex looks like a thick paperback book. It stands vertically, encased in reflective black plastic. To keep the drive cool, ventilation holes are on the top and back of the unit. The all-black finish looks great, but the reflective nature of the enclosure makes it a fingerprint and smudge magnet. In our lab, the drive required constant cleaning with a soft cloth to keep it nice and shiny, something I wasn't keen on doing every day. But in most situations, you'll place the GoFlex on your desk, and never have to handle it.
What makes Seagate external drives stand out is that they're not tied to one type of connection technology. Our review unit came with a USB 3.0 adapter (compatible with USB 2.0). You can get a $50 FireWire 800/USB 2.0 adapter from Seagate's website. When the adapter is affixed, it feels sturdy and rock-solid. Detaching it took a bit more muscle than was anticipated, but that shouldn't be a problem unless you plan on switching between adapters on a frequent basis.
Using the GoFlex is an effortless endeavor. Just plug the drive into a wall outlet with the included AC adapter, connect it to your system with the also included USB 3.0 cable (which can be plugged into a USB 2.0 port), and you're good to go. The device powers on when you hook it up to a Mac, and powers off when you unplug it from your computer. The drive comes preformatted for Windows, but the Seagate Setup Assistant software (located on the drive) lets you choose between installing an NTFS driver for Mac and PC use, or formatting it for Mac only operation and Time Machine support.
What about speed? The GoFlex holds its own amongst the competition. It wrote a 2GB folder at 30.8MBps and copied it back at 36.1MBps over USB 2.0, not quite beating the CalDigit AV ( ) in writes, but definitely surpassing it in reads. In our write 2GB file test, the GoFlex beat the Iomega eGo Silver Desktop ( ), writing data at 32.7MBps. However, the GoFlex's 2GB file read speed was 38.5MBps, a bit slower than the eGo's score. The GoFlex completed our low-memory Photoshop test in 80 seconds, and was just 0.2MBps shy of achieving the AJA System write test high score of 32.2MBps.
Macworld's buying advice
The Seagate GoFlex Desk gives you a lot of storage space and lets you connect to the port of your choice. Sure, it attracts blotches and marks, and its connectors require some strength to remove, but those are small quibbles for what otherwise is a great entry into the external hard drive market.