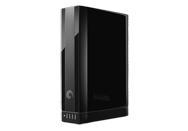 External desktop hard drives buying guide Mac's hard drive near capacity? Time to add more storage The hard drive in your Mac is often referred to as an internal hard drive. An external hard drive is packaged in a case and connects to your Mac usually via USB or FireWire. External hard drives can be portable, generally using smaller 2.5-inch drives and can run off of USB or FireWire bus power, or they can be designed to find a home on your desk, using 3.5-inch drive mechanisms and requiring a power supply plugged into a wall outlet.
External desktop hard drives are great because they have a more affordable price per gigabyte than portable drives, allowing you to backup your important data without worrying about capacity and cost. You can buy 1TB USB 2.0 external hard drives for under $100. Hard drives have faster data-transfer speeds than DVDs or CDs, and they're easy to use. They can be disconnected from one computer and attached to another, and they come in a variety of sizes and forms. If you're looking for a quick and painless way to add massive amounts of storage for your music, photos, videos, or system backups, an external hard drive is hard to beat.
External hard drives buying advice
Capacity Capacities range from 160GB to 3TB. If you have lots of media or graphics files, more is better. If you're using Time Machine to back up your Mac, the larger the capacity of your backup drive, the more versions of your documents will be stored. Often, the largest available capacities can come with a price premium, so expect to pay more per gigabyte for a 3TB drive than for a 1TB or 2TB drive, which are more common. Many 1TB external hard drives cost less than $100.
Connectivity You'll use USB 2.0, USB 3.0, FireWire 400, FireWire 800, eSATA, or Thunderbolt to connect to you Mac. Many drives feature multiple ports, but some offer only one (usually USB or FireWire 800).
USB 2.0 isn't the fastest connection on the Mac, but it's the most common. Macs do not have USB 3.0 ports. USB 3.0 drives are compatible with USB 2.0, but they will operate at USB 2.0 speeds. USB 3.0 ExpressCard adapters and PCI cards are available, but they often only support a single manufacturer's drives.
MacBook Airs and the recently discontinued white MacBook don't have FireWire ports. If you have older Macs equipped with FireWire 400, then it's nice to have a drive with FireWire 400. FireWire 800 is faster and is backwards compatible with FireWire 400 with the proper cable.
The latest connection type to hit the storage scene is Thunderbolt. While only a few drives feature Thunderbolt connectivity, all current Macs (except for the current Mac Pro) support this super-speedy interface. Unfortunately, no Thunderbolt drive currently available supports multiple interface types. If you don't have Thunderbolt on your Mac, you can't use a Thunderbolt drive.
Many high-capacity drives offer eSATA (external Serial ATA), which, at 1.5 or 3 gigabits per second (Gbps)—depending on which version of Serial ATA is implemented—can be faster than FireWire 800. Owners of the 17-inch MacBook Pro can add eSATA by using an ExpressCard/34 card. Mac Pro users can tap into the two unused SATA ports on the motherboard, using Newer Technology's $19 eSATA Extender Cable.
Speed The faster the platters in a hard drive spin, the better the performance. 7200 rpm (rotations per minute) is standard for desktop hard drives and plenty fast for most users. (Most Mac notebooks feature 5400-rpm drives.) If your tasks include recording audio, working with video, or gaming—tasks that require constant drive access—and you currently have a slower drive, a 7200-rpm external drive will provide better performance.
Mac Pro users who do professional-level audio or video production might consider a 10,000- to 15,000-rpm drive, for optimal performance. These high-performance drives usually offer less storage capacity and require a SCSI connection, so you'll need to either install a SCSI card like Atto's $295 ExpressPCI UL4S to support the connection, or consider a RAID instead.
RAID Some desktop external hard drives have more than one hard drive inside. With two drives, the unit can be configured as a striped array (called RAID 0), which makes one partition of the two drives and writes and reads simultaneously for faster performance. If one of the drives dies, you lose all of your data. The two drives can also be configured as a mirrored array (called RAID 1). Mirroring the drives safeguards your data by keeping two identical copies of your drive. The downside is that you can only use half of the unit's storage capacity.
Some two-drive external devices can also be configured to use the drives individually in a JBOD (Just a Bunch of Disks) setup. This way both drives mount separately as if they were two one-disk external drives. If one drive dies, the other can continue to operate.
Added features Almost all USB or FireWire external hard drives are compatible with Time Machine, as long as the drive is HFS+ formatted (and, of course, you must be running OS X 10.5 or 10.6, both of which include Time Machine).
Some drives include extras such as bundled software, one-touch backups, and software encryption. And keep in mind that external hard drives are common targets of theft: if your drive is publicly exposed (say, at work) find a drive with an antitheft port that you can use to tether the drive to your desk, and consider using encryption.
Our favorite external hard drives
The CalDigit AV Drive ( ) was first USB 3.0 drive to support the Mac. It's a well-built drive with impressive performance scores across the board. Audio/visual professionals and speed demons alike will want to check out this drive, available in capacities ranging from 1TB to 3TB. Read our full review. [$199 for 1TB; Get best current price for the CalDigit AV Drive; CalDigit]
The Seagate GoFlex Desk ( ) stands out from the pack due to its large capacity and its versatility. It includes a USB 3.0 adapter (compatible with USB 2.0), but if you're looking for a more Mac-friendly connector, you can get a $50 FireWire 800/USB 2.0 adapter from Seagate's website. Read our full review. ($270 for 4TB; Buy the Seagate GoFlex Desk directly; Seagate]
Desktop drives provide security one of two ways—by maintaining the integrity of your data through redundancy (RAID, cloud, or offsite backups) or by ensuring that nothing physically could happen to your drive. Meant to survive conditions that standard hard drives cannot—namely fires and floods—an ioSafe SoloPro ( ) may be ideal when you're worried about the worst thing imaginable happening to your home. The SoloPro is available in 1TB, 2TB, and 3TB capacities. Read our full review. (prices start at $249; Buy the ioSafe SoloPro directly; ioSafe]
[James Galbraith is Macworld's lab director.]