Successful news-reading apps do two things well: They're fun to look at and use, and they give you the information you want. Evri for iPad, a free social news aggregator from Evri, hits both marks.
Like the best apps in this field— Flipboard and Zite—Evri pulls links from your Facebook and Twitter feeds and displays them as news stories in their own right. Where those other apps use a magazine-style user interface, however, Evri looks and feels a bit more like a scrapbook of collected headlines; it's a charming choice by the developers.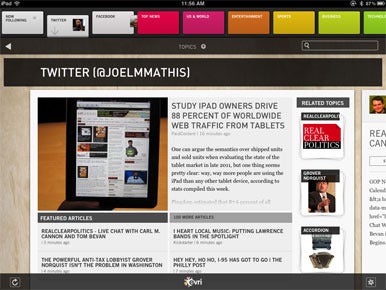 More importantly, Evri doesn't limit you to the links that your friends are posting. Each headline includes a sidebar listing two or three topics related to the story at hand. You can click on those topics for more in-depth coverage; and you can star the topic so that you have a permanent feed of related news stories flowing to you within the app. Zite has a similar topic-driven approach to offering info, but Evri handles this aspect better by offering a much deeper array of topics to choose: In the former app I can decide to follow "television" news; in Evri I can look for updates on specific shows.
Evri also lets you share the stories you read via Facebook, Twitter, or email. If pressed for time, you can save a piece for later perusal.
There's only one small problem with the app: It doesn't update automatically. If you last opened it two days ago, it'll give you two-day-old headlines unless you manually refresh. It would be nice if users could adjust the settings so the latest headlines appeared right away.
Beyond such quibbles, though, Evri is a triumph. News consumers will want this app on their tablet.
[Joel Mathis is a freelance journalist and political columnist for Scripps Howard News Service. He lives in Philadelphia.]