It's been demonstrated that the average listener can tolerate exactly 27 days of holiday-themed music per year. At the same time, very few of us are willing to pungle up the dough necessary to obtain 648 hours of eggnog- and reindeer-themed tunes. Thanks to Pandora—the ad-supported streaming music service—there's no need to. Construct your Pandora stations correctly and you can fill your home with holiday music for nothing more than the occasional Geico commercial.
There are a few ways to go about creating such stations. The first is to choose a specific holiday track that you enjoy. To do that, log on to Pandora and in the New Station field enter the name of a favorite track—White Christmas, for example. A list will appear that offers recordings of this old chestnut by a variety of artists. If you're of a traditional bent, choose Bing Crosby. If you'd like a station that produces results from more contemporary artists, try Taylor Swift instead. Pandora will produce a station that offers holiday songs in styles similar to the artist you chose.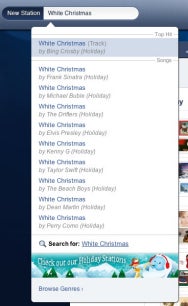 One trick for helping to narrow down your list is choosing a track that isn't widely recorded. For example, select James Brown's Santa Claus Go Straight To The Ghetto and you'll certainly get more soulful tracks as well as a mix of holiday tunes that are a little more obscure.
Another way to construct a holiday playlist is to enter an artist in Pandora's New Station field followed by (Holiday). So, Eartha Kitt (Holiday) or Berlin Symphony Orchestra (Holiday), for example. The artist's style help determine the station's character.
Finally, you can leave it up to Pandora. Click on the New Station field and choose Browse Genres. In the list of Genre Stations that appears, select Holiday. When I last checked I found these stations—Christmas, Classical Christmas, Country Christmas, R&B and Pop Holiday, Rockin' Holidays, Swingin' Christmas, Children's Christmas, Indie Holidays, Navidad Latina, Electronic Holidays, and Hanukkah.
Regardless of the method you choose, you'll likely need to tweak your stations with Pandora's Thumbs Up and Thumbs Down buttons. When listening to what I thought would be a classical holiday station, for example, beat-heavy seasonal remixes appeared. A couple of clicks of the Thumbs Down button put those tracks on Santa's Naughty list, never to be heard again.