Ultra-portable scanning just got even slicker: On Monday, Apparent released a software upgrade to its USB-powered Doxie scanner. The Doxie 2.0 software now sports an Auto Adjust feature, which automatically determines contrast, cropping, and rotation settings for scanned documents.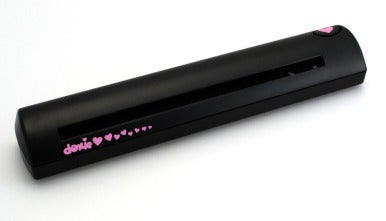 With Auto Adjust, the Doxie can recognize the type of paper—whether it's a glossy photograph or lunch receipt—being scanned, and then crops, rotates, and adjusts the contrast accordingly. Other updated features in Doxie 2.0 include a new design, the ability to save batch PDFs, date stamps on scanned documents, SimStapler technology to easily create multi-page PDFs, and more.
For those unfamiliar with Doxie, it's a cute, compact device that lets users scan documents and photos and upload them as PDFs to sites such as Flickr, Tumblr, and Twitter, or to services like Google Docs, Dropbox, and Evernote. The scanner, which also has cloud integration for quick online sharing, debuted at Macworld in 2010.
Doxie is available for $149 from Apparent's online store. The company is offering all of the new features to existing Doxie owners as a free software upgrade. To use the software, Mac users must be running OS X 10.5 or later.