There's plenty to like about League of Evil, a platform game that delivers old-school adventure to your iPhone, iPod touch, or iPad. Unfortunately, there's not enough to love about the game.
Built by Ravenous Games, League of Evil mimics those low-tech handheld platformers of a generation ago, right down to the pixelated graphics and chiptune soundtrack. It will be a welcome blast from the past for gamers of a certain vintage, though how much goodwill you feel toward League of Evil will come down to what you think of the game's onscreen controls.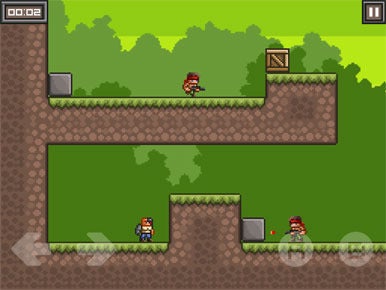 You control a secret agent whose bad-guy battling skills boil down to the ability to jump and deliver one heck of a punch to the face. A group of villainous scientists have joined forces—the titular League of Evil—and it's your job to track them down to deliver a little two-fisted justice. You do so by leading your super agent through a series of levels, jumping and running past obstacles like lasers, spikes, and the occasional henchman. You collect briefcases along the way to unlock achievements, but the true goal of the game is to complete each level as quickly as possible.
And League of Evil certainly provides a lot of levels to complete—169 by my count, spread out across six chapters. In one of the game's nicer attributes, you don't necessarily have to play chronologically. If you get tired of working your way through the levels of the Weapon of Mass Destruction chapter, you can always jump ahead to Welcome to the Jungle. (You do have to complete a level within a chapter to unlock the next level, however.) There's more than enough action to keep you playing League of Evil for quite some time.
But will you want to? That depends on how you feel about the game's controls, comprised of onscreen buttons across the bottom of the screen. Arrows allow you to move left and right. An A button lets you deliver the death blow to your enemies while a B button makes you jump. Tap the B button twice, in fact, and you can double-jump, which comes in handy on particularly challenging levels. Really, the controls couldn't be simpler to grasp.
They are, however, extremely difficult to master. Your super spy moves so swiftly that timing and landing your jumps can prove to be a bit of a challenge. This becomes especially frustrating as you progress through the game and the margin for error becomes ever more slender. I found myself repeatedly flinging my secret agent to his doom because I wasn't able to easily control his movements. League of Evil compounds the frustration by ending the game the moment you die; sometimes, the Game Over screen pops up before I can even figure out the cause of my grisly demise.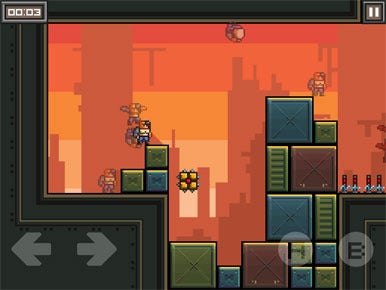 You have to negotiate each level in League of Evil without any idea of the dangers that lie ahead. Some players will certainly appreciate the challenge that poses, but, with deadly obstacles looming at the bottom of every blind leap, I found it a little frustrating. I wish League of Evil would follow the lead of a game like Early Bird and give you the option of seeing the lay of the land before you charged headlong into danger.
Don't let League of Evil's deliberately low-tech look-and-feel fool you: This is a complicated game, whether it's mastering the onscreen controls or earning a three-star score for completing a level in the prescribed time. (It requires a ridiculously fast time to win that three-star rating, by the way.) These challenges may be exactly what some gamers are clamoring for, but if you take a more casual approaching to your gaming, you may find this battle of good-and-evil to be fiendishly frustrating.
[Macworld.com editor Philip Michaels often mulls beginning a second career in super villainy.]